April 2017 Pet Treater Box Review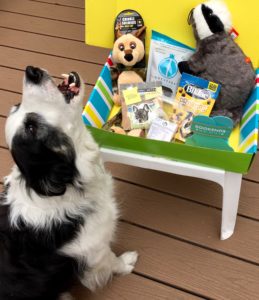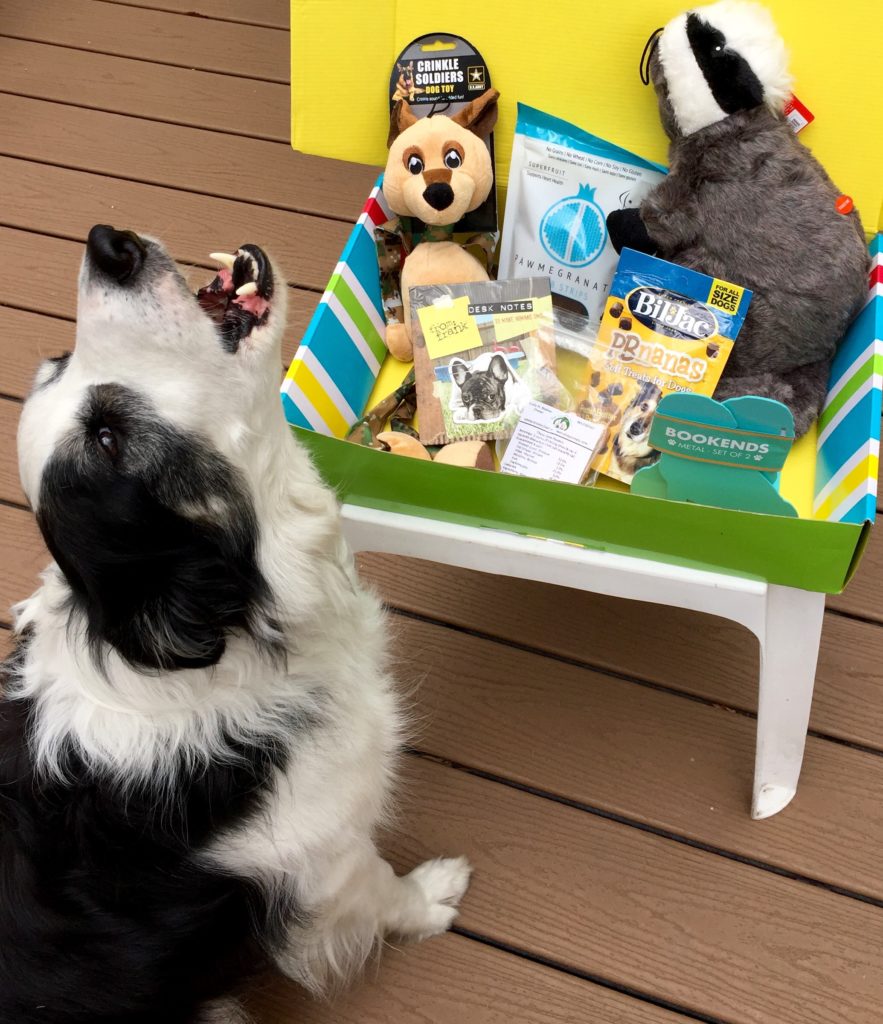 April 2017 Pet Treater Box
Pet Treater is a monthly subscription box for dogs that contains quality items for a fraction of the retail value. Box contents may include treats (made in USA or Canada only), interactive toys, accessories, grooming supplies, and more! For every box that ships, Pet Treater donates a toy, bag of treats, or blanket to an animal shelter in need.
The Homespun Chics received this box for review. All opinions are 100% our own. This post contains affiliate links.
---

How It Works:
Dog Sizes:  Small (0 – 20 lb), Medium (21 – 50 lb), Large (51+ lb)
Pricing:  $34.99 TRY IT OUT Box (does not auto-renew), $24.99 for Month-to-Month, $22.99 for 3-Month, $21.99 for 6-Month, and $19.99 for 12-Month.
What's Inside:  Each month, subscribers will receive a fun, themed box filled with goodies like U.S. and Canada-made treats, plush toys, gadgets, grooming supplies, doggy wearables, and more! There's even a "human treat" included in every box.
*FIRST TIME subscribers will receive a first time box which will include past favorites and not the new items of the current month. Themed boxes will begin the following month.
SHIPPING SCHEDULE!
Subscribers asked and Pet Treater listened! Pet Treater has officially simplified the shipping schedule from 3 cycles per month down to just one! 🙂
Monthly boxes will now be shipping between the 5th – 10th of each month.
*If you were billed after the 10th of the month, a box will not be shipped until the following month.
TRY IT OUT boxes (non-renewing purchase) will be shipped right away and items will include past favorites and not the new items from that current month.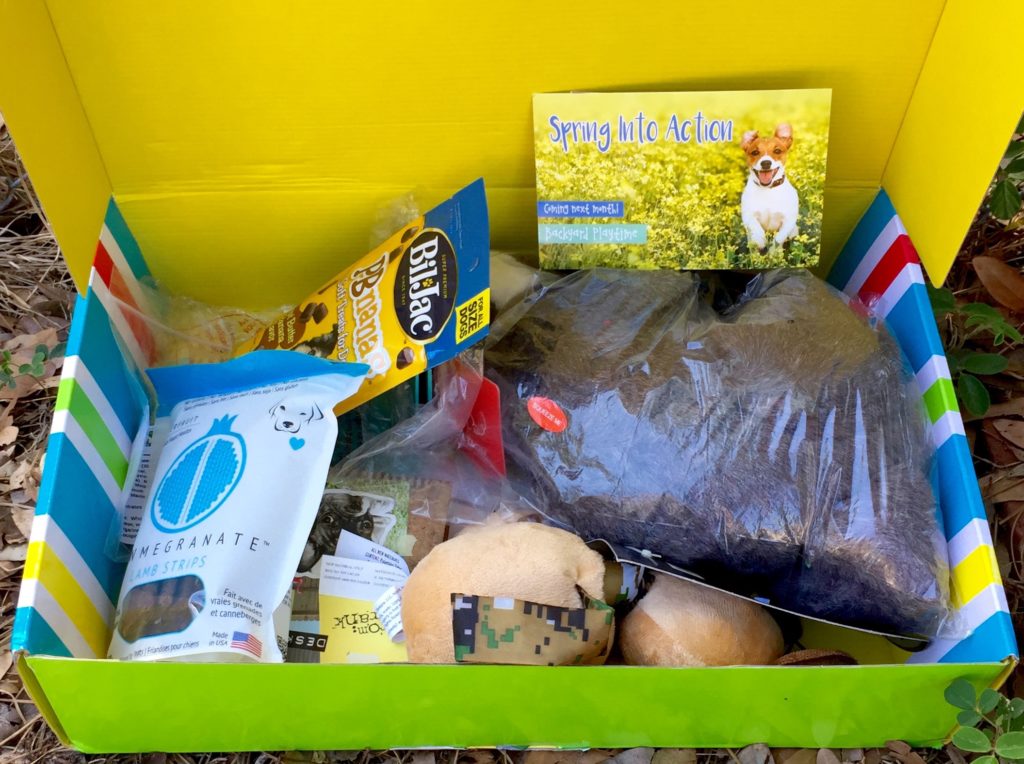 First Peek! The dogs KNEW this was a box for them!  I had to put them in the house so they would leave me and the box alone long enough to get the photos so you guys could see what was inside!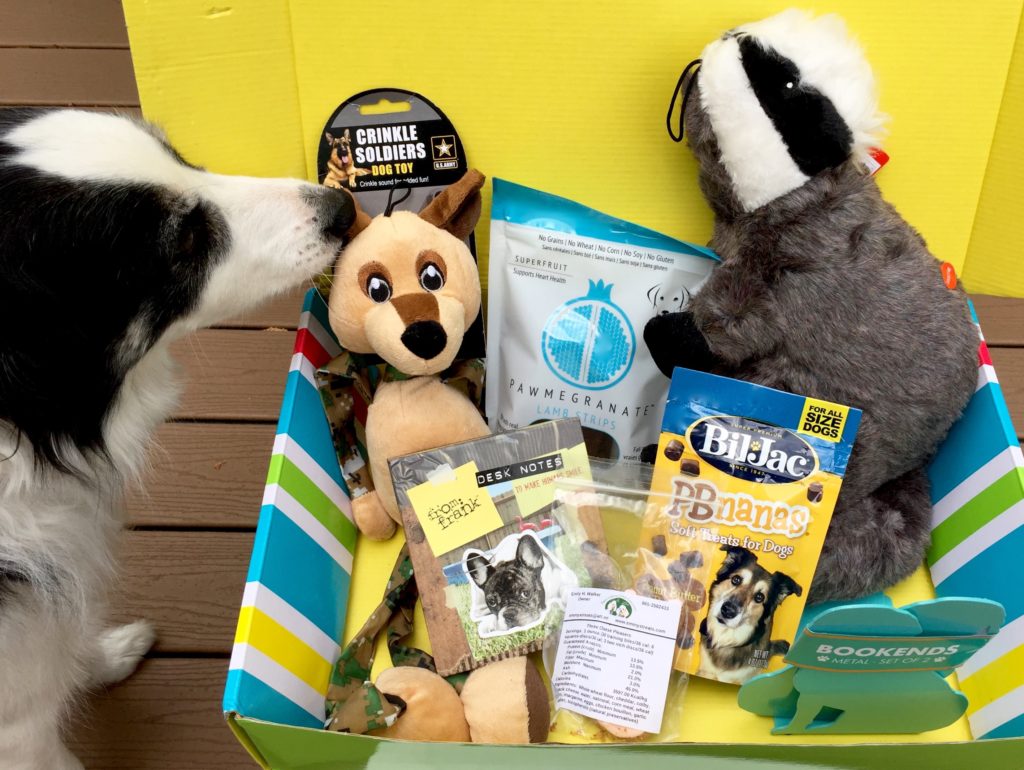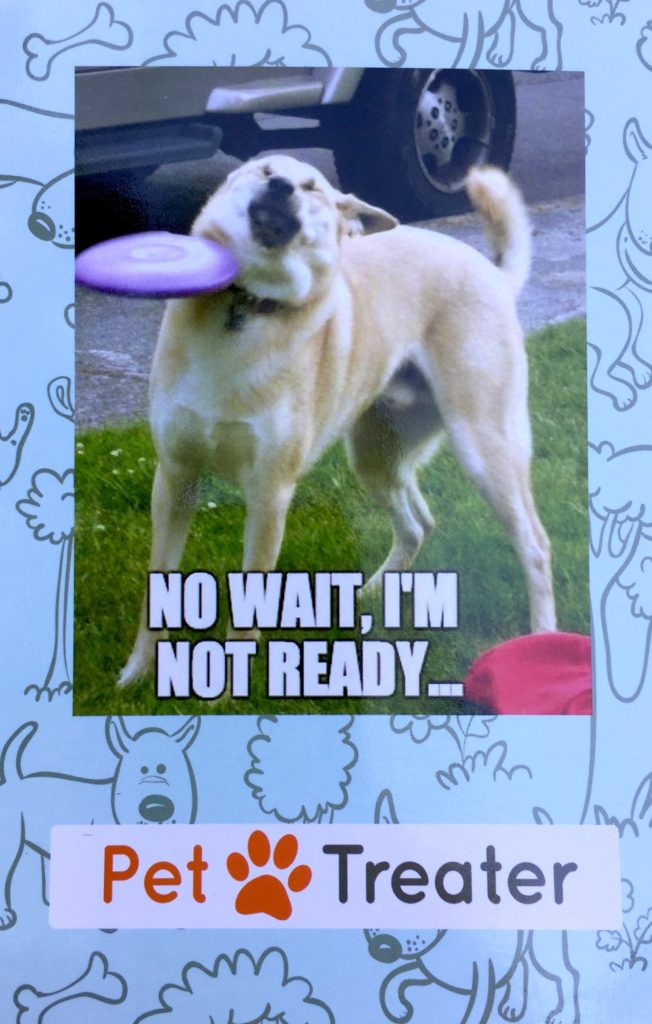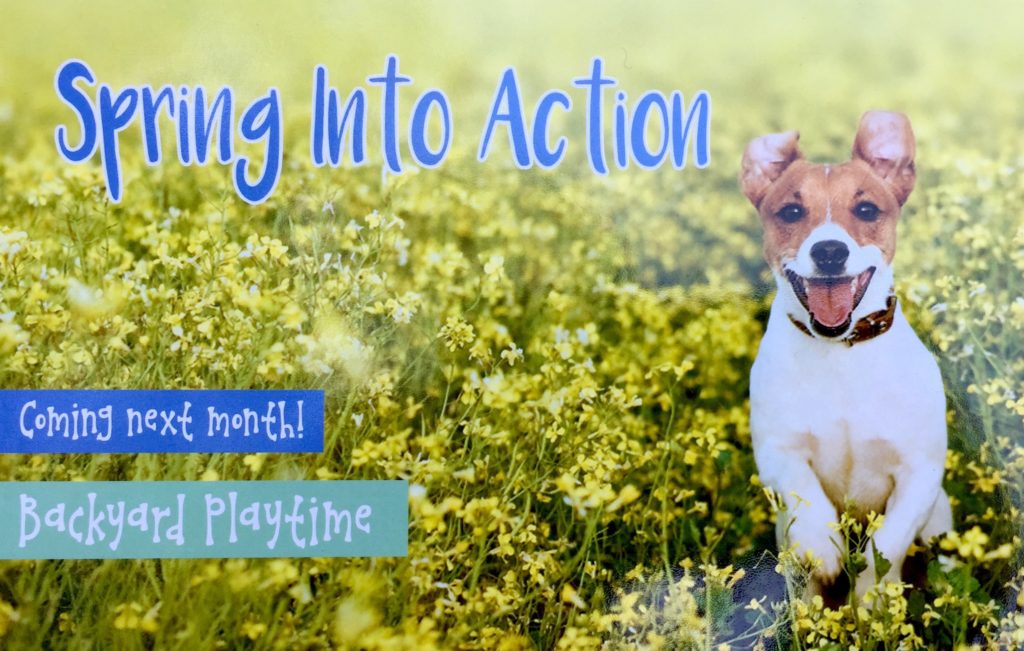 The theme of the April 2017 Pet Treater box was 
Spring Into Action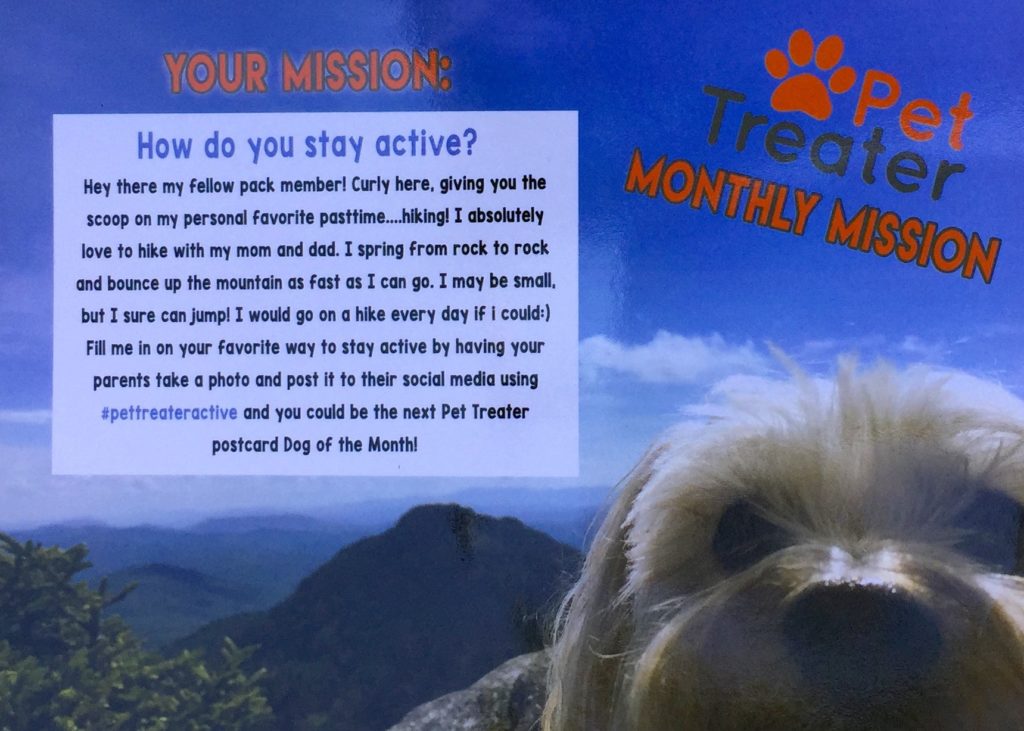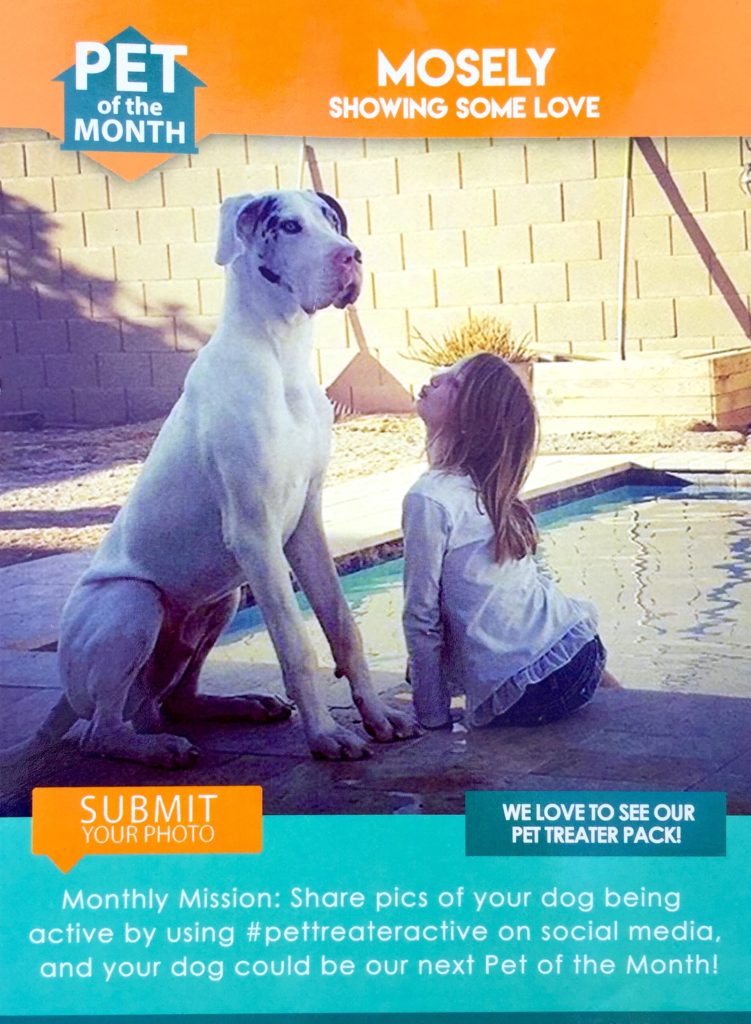 April's Pet of the Month is a regal Great Dane named Mosely! Subscribers can email a photo of their pet enjoying the current month's bounty for a chance to be the next featured Pet of the Month!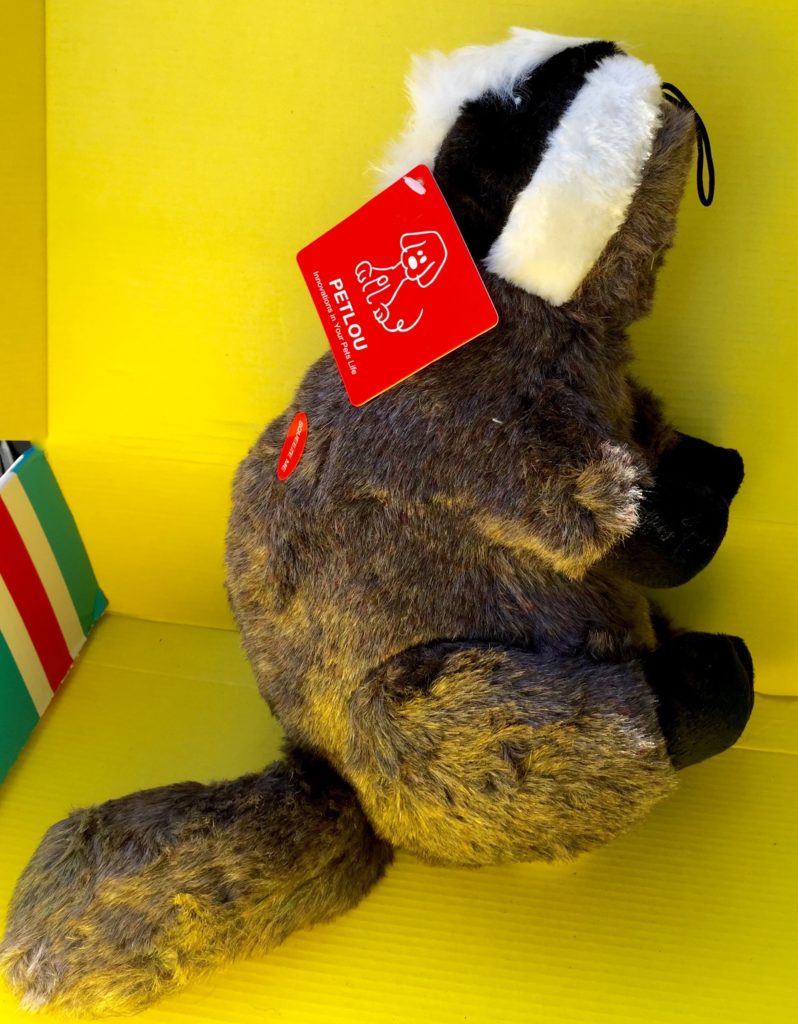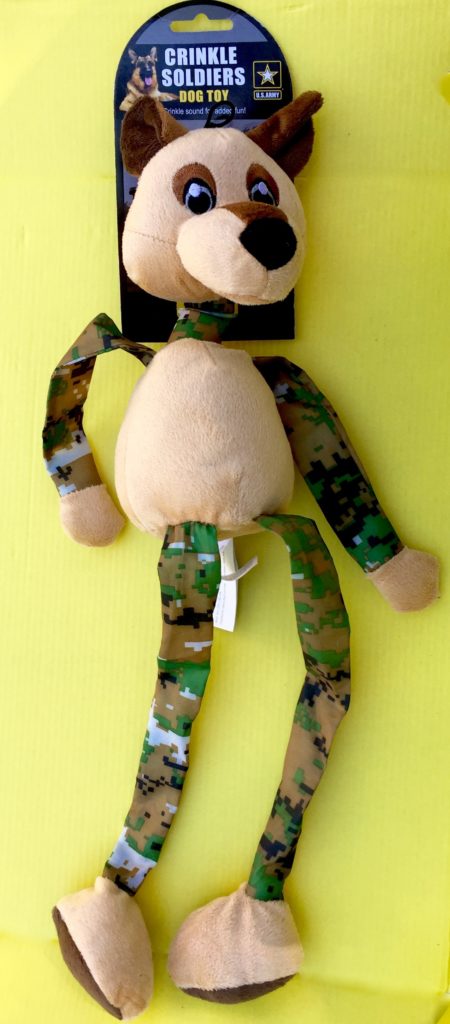 I had to put the toys up first so I can get them hidden away from my toothy guys. These will both go to Sarah's Beijing and will stay intact much, much longer than if Rocket and Jed spend even a minute with them!
Petlou, Inc. – 19″ Badger Dog Toy ($12.99)
This is a plush, squishy dog toy that is probably larger than some dogs I have met! It has a squeaker that squawks like a goose.
Bow Wow – Crinkle Soldiers Dog Toy ($9.99)
This is a US Army licensed product dog toy that has crinkle-sounding arms and legs and a plush head and torso with squeaker. It measures 20″ long and 12 of those inches are the legs!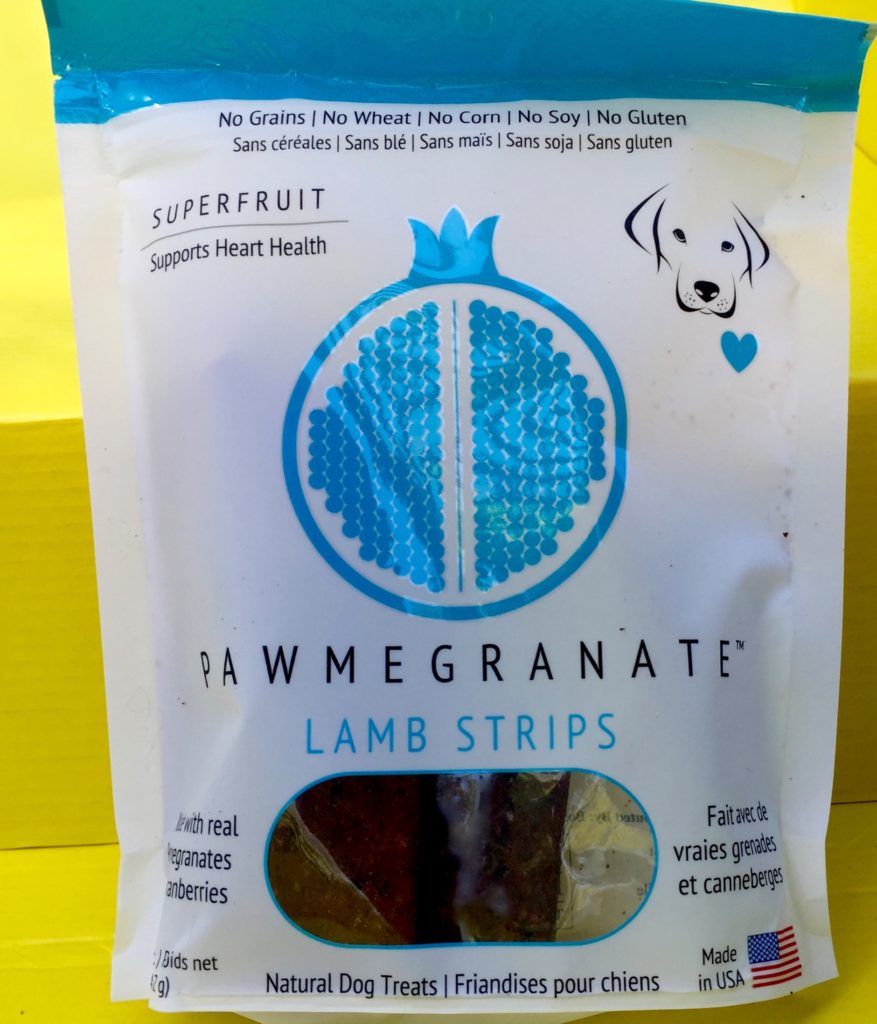 Pawmegranate – Lamb Strips 5 oz ($8.99)
Made with farm raised lamb and beef, these natural dog treats also have real pomegranates and cranberries along with chickpea flour, cane molasses, honey, blueberries, and sweet potato. Plus they tossed in a little vitamin E for good measure!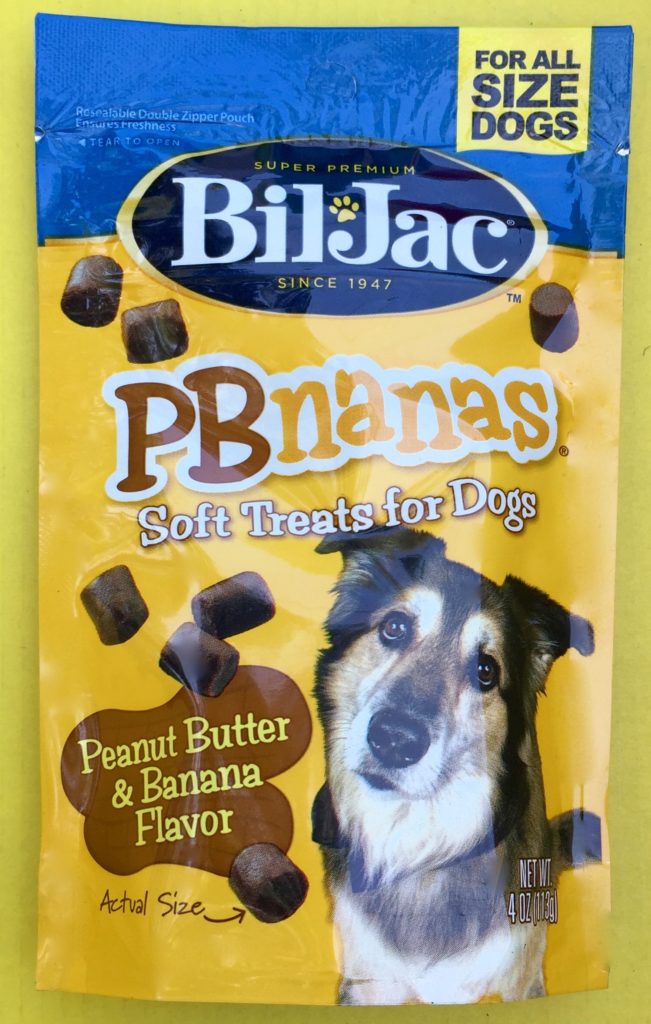 BilJac – PBnanas Soft Treats for Dogs 4 oz ($2.99)
This is a bag of little nugget soft dog treats made from chicken and peanut butter & banana flavorings. We have a chicken allergy here so these little sweeties will go to Beijing along with the toys. And I know she will love them – a little treat to my lovely Granddog!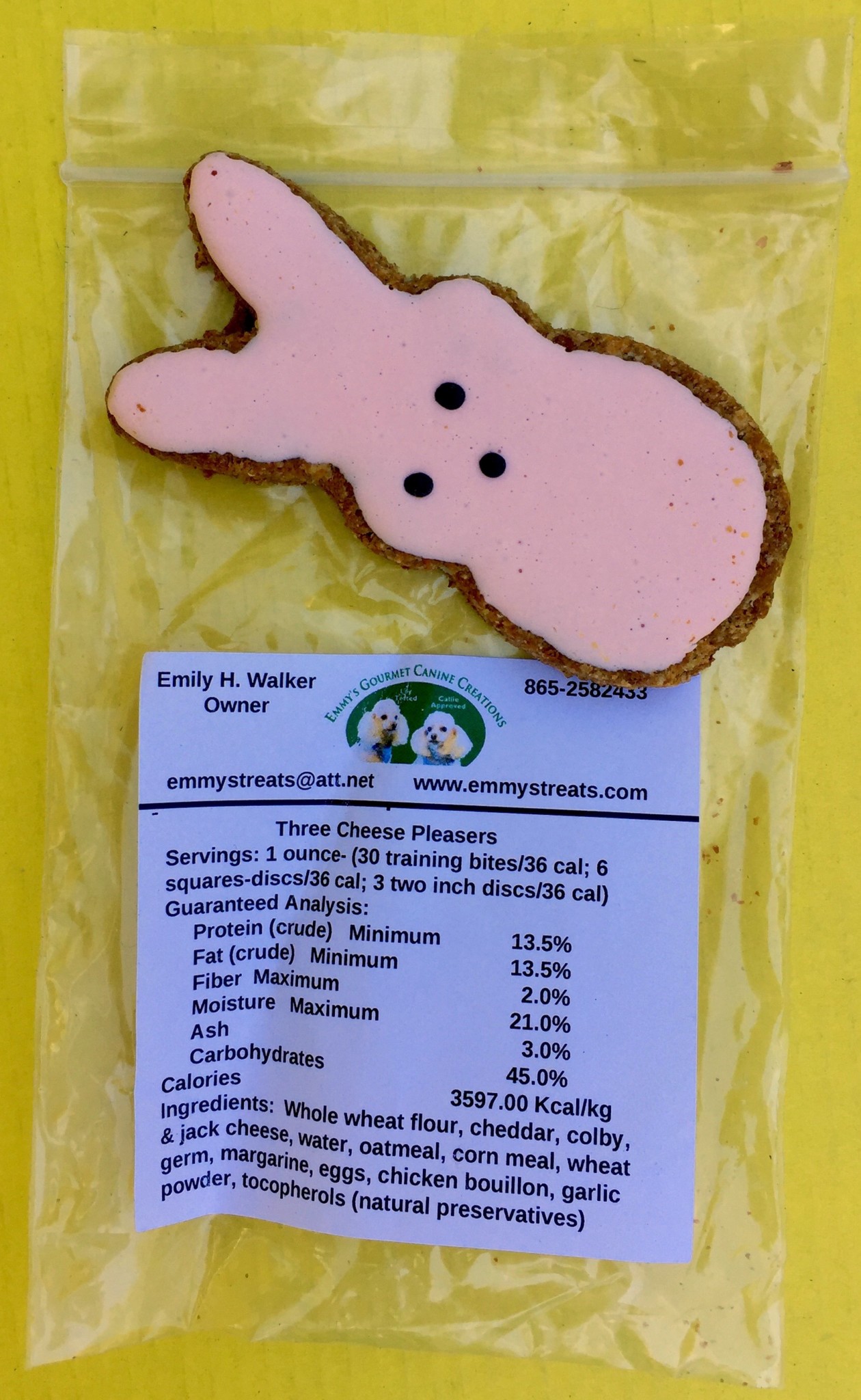 Emmy's Gourmet Specialty Treats – "Three Cheese Pleasers"  ($2.50)
All of Emmy's treats are made in Tennessee using fresh, high quality ingredients. I love this month's cute bunny design and the boys loved the flavor!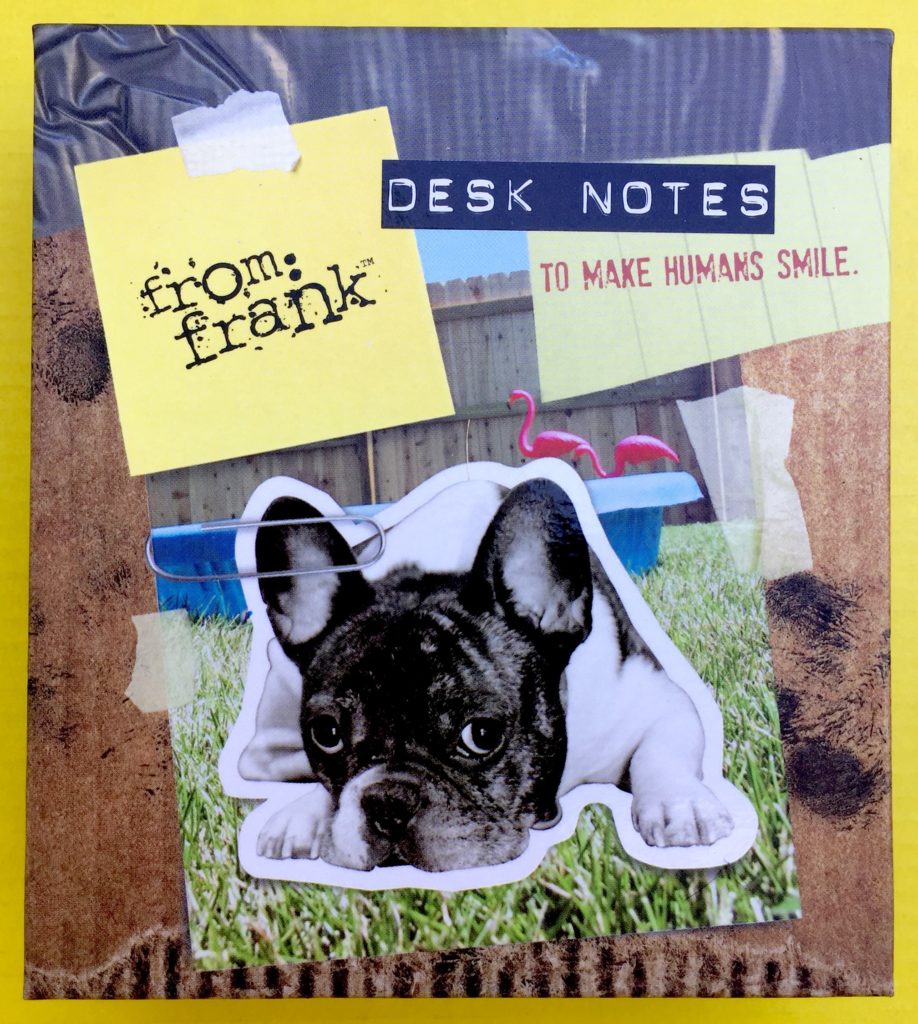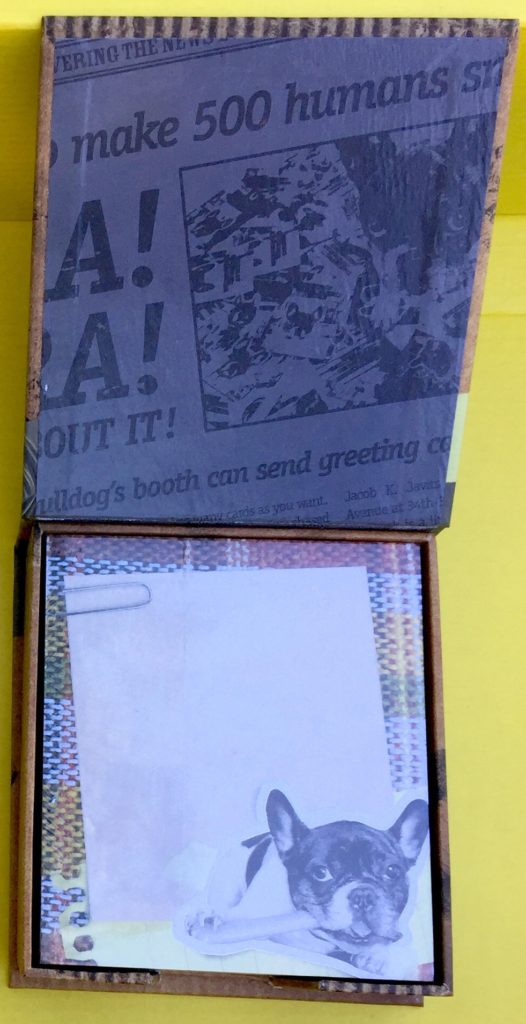 Rock Point – From Frank Desk Notes To Make Humans Smile ($7.94)
This is a set of 250 sheets of savvy advice & snarky quotes with funny pet images from a whole gang of pups! Who can't use some cute note paper?!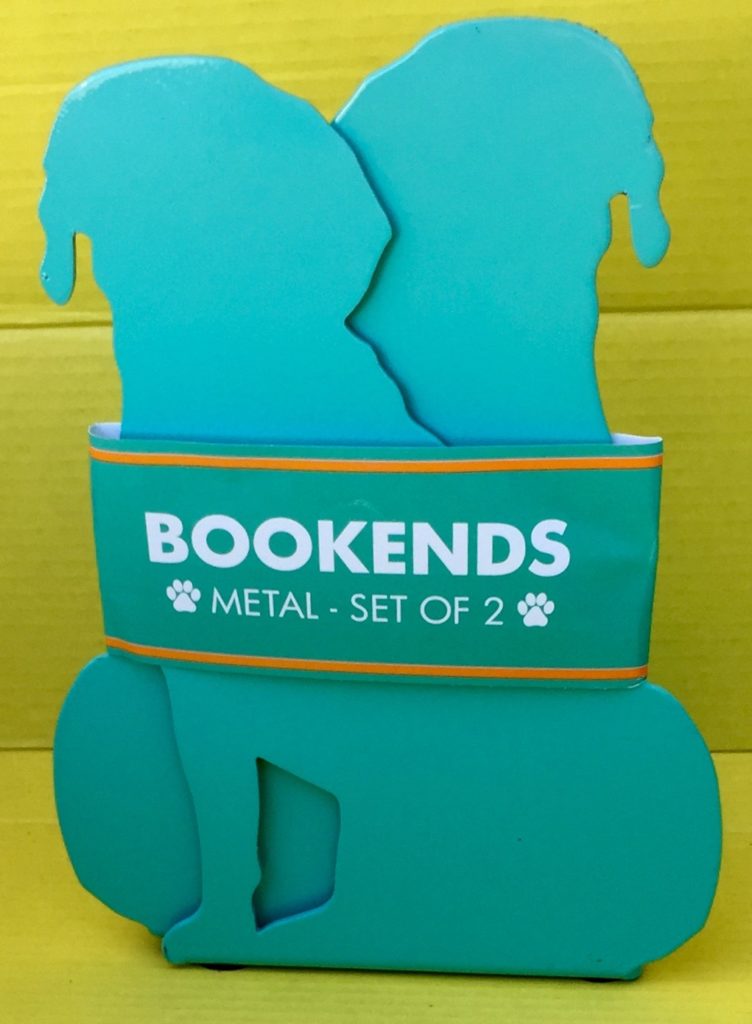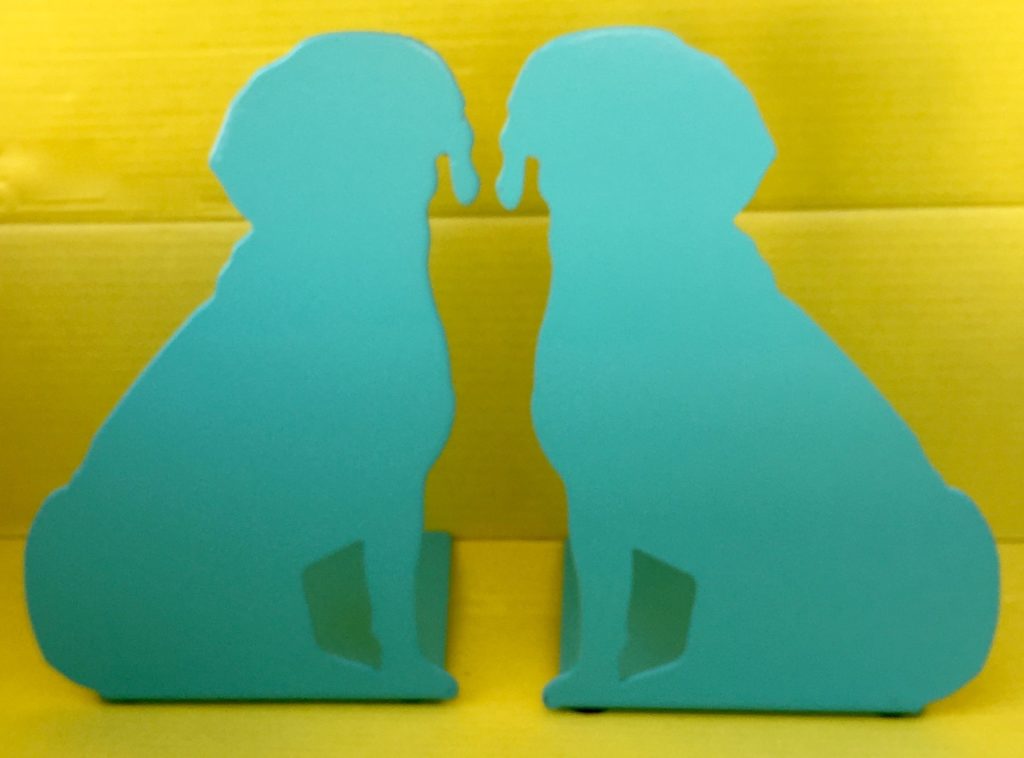 G For Gifts – Turquoise Dog Bookends (?$)
These are heavy metal turquoise dog bookends with an enamel finish and rubber feet. They measure 7″ high and  would be great holding books in any dog lover's house!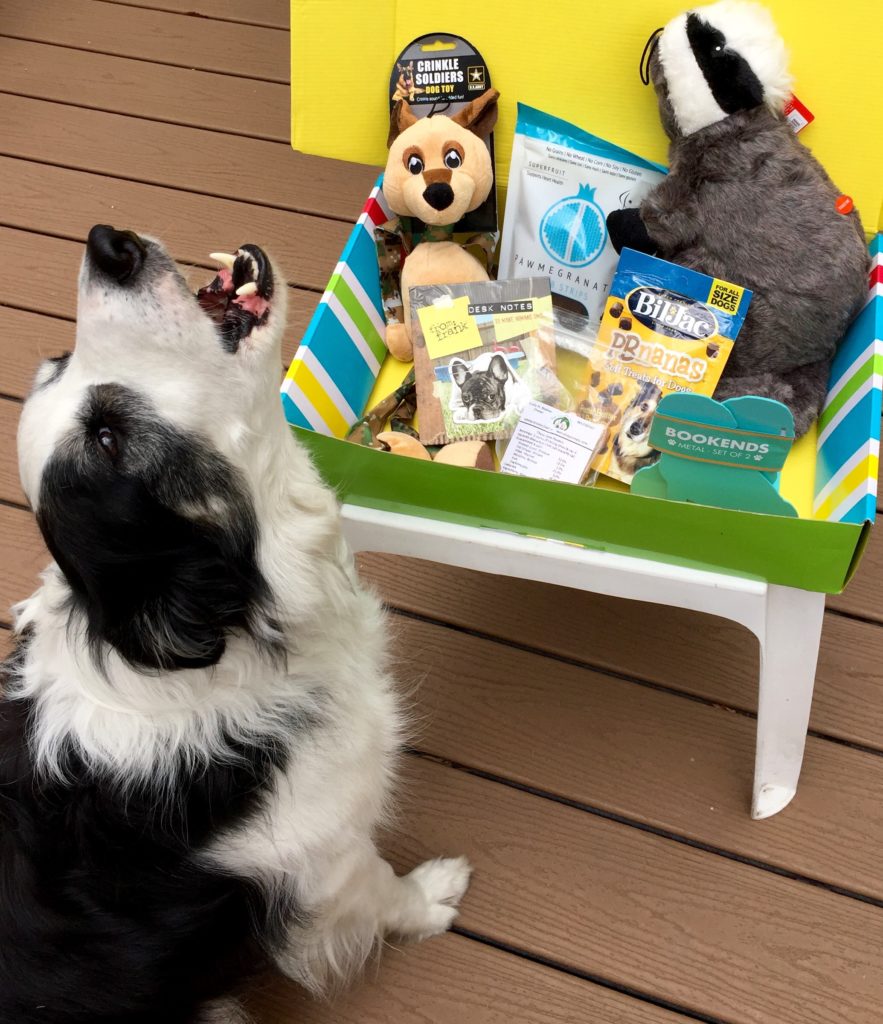 Rocket howling with joy after finally getting to check out our Pet Treater box!
The April 2017 Pet Treater box was just chock-full of great doggie toys, treats, and stuff for dog lovers, too. I always need note paper – still haven't totally entered the computer age of putting my notes/lists on my phone or laptop – and I really LOVE the dog bookends! My dogs always love treats and I can't wait to get back to NC to give Beijing her surprises!