April 2017 Degustabox Review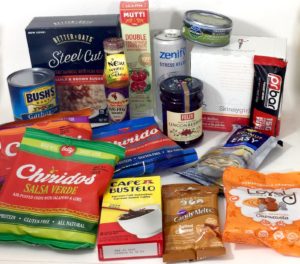 April 2017 Degustabox Review
Degustabox is a food subscription box that began mid 2016 and sends you 10 to 15 full-size surprise products each month at a price less than you would pay at the store for the items. The monthly cost is $19.99 with free shipping, charged on the 19th of each month.
There is no commitment and you can cancel the next month if you notify Degustabox before the 15th of the month.
The Homespun Chics received this subscription box for review. All opinions are 100% our own. This post contains affiliate links.
---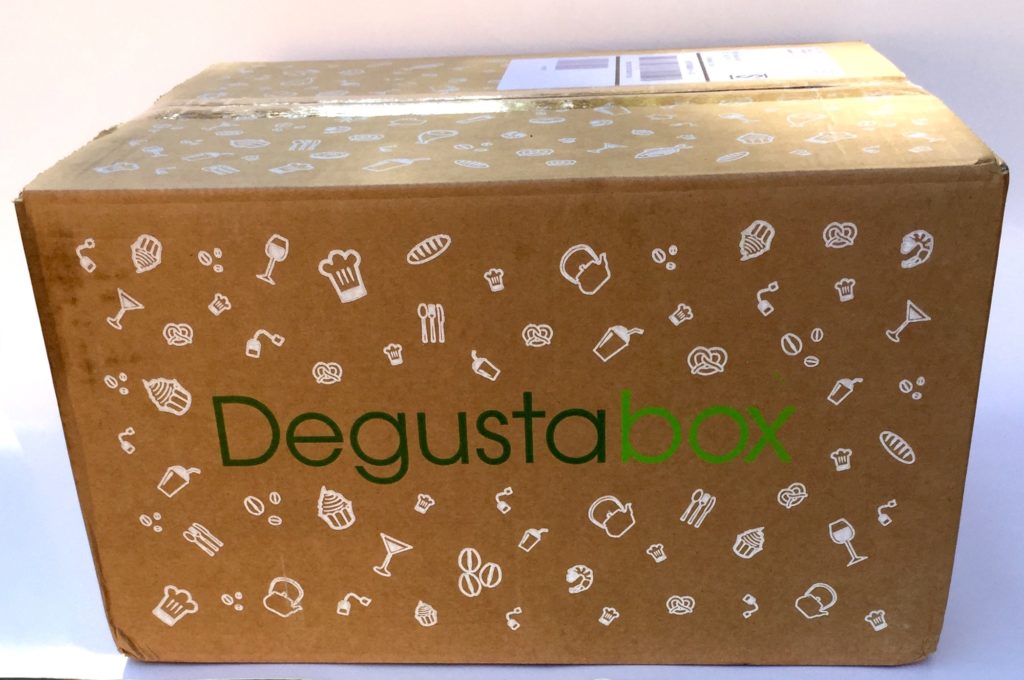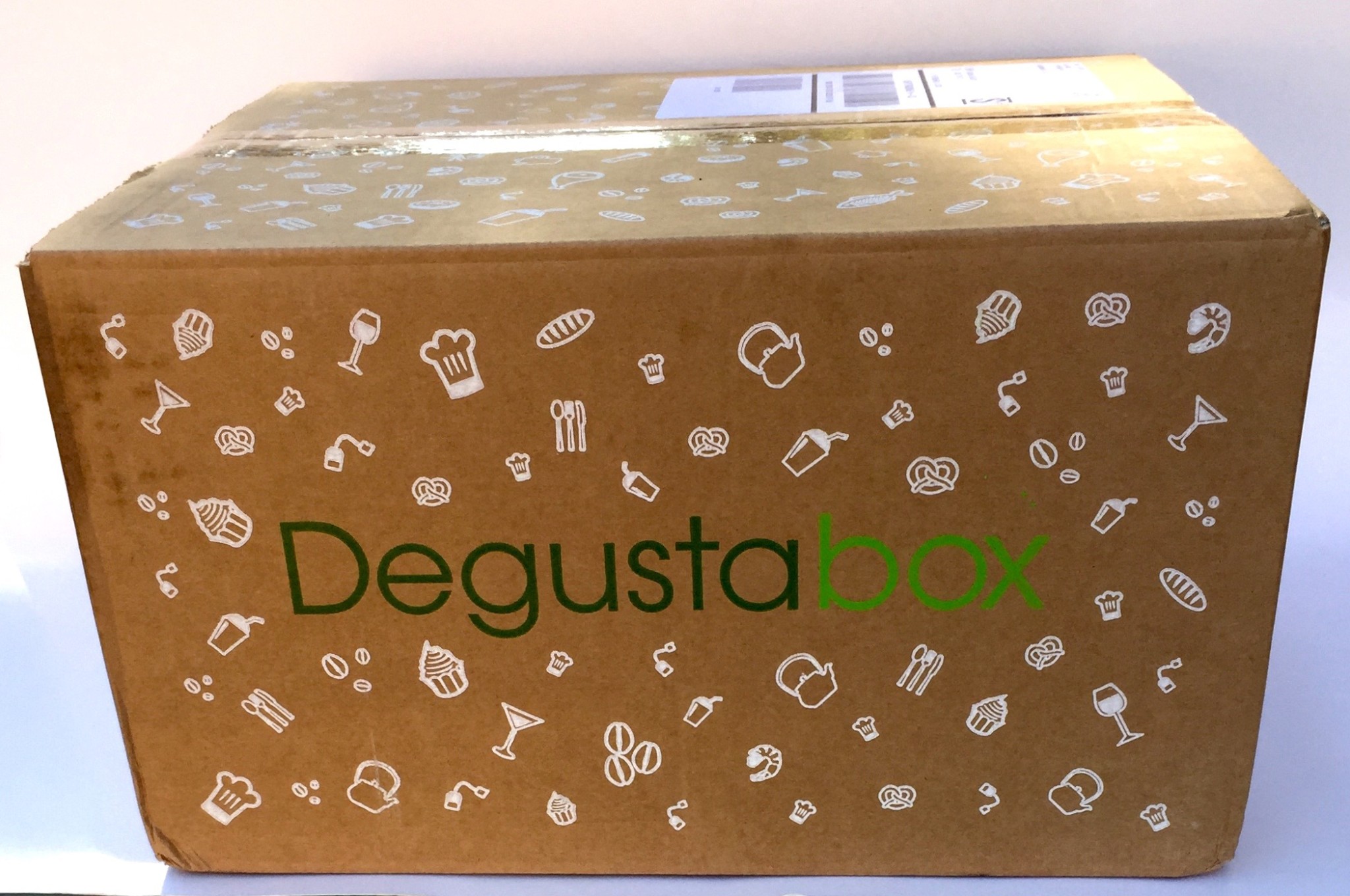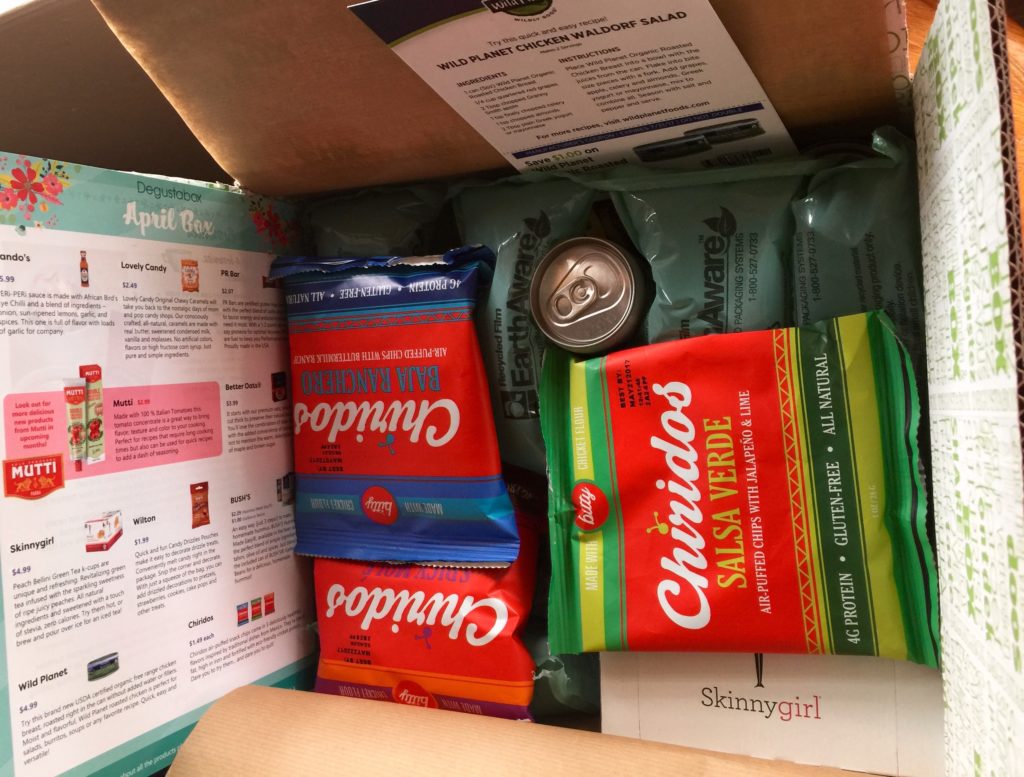 First peek! This is a box chock-full of all kinds of food items!! Degustabox is doing a split box this month so not everyone will be receiving the same food items that I received.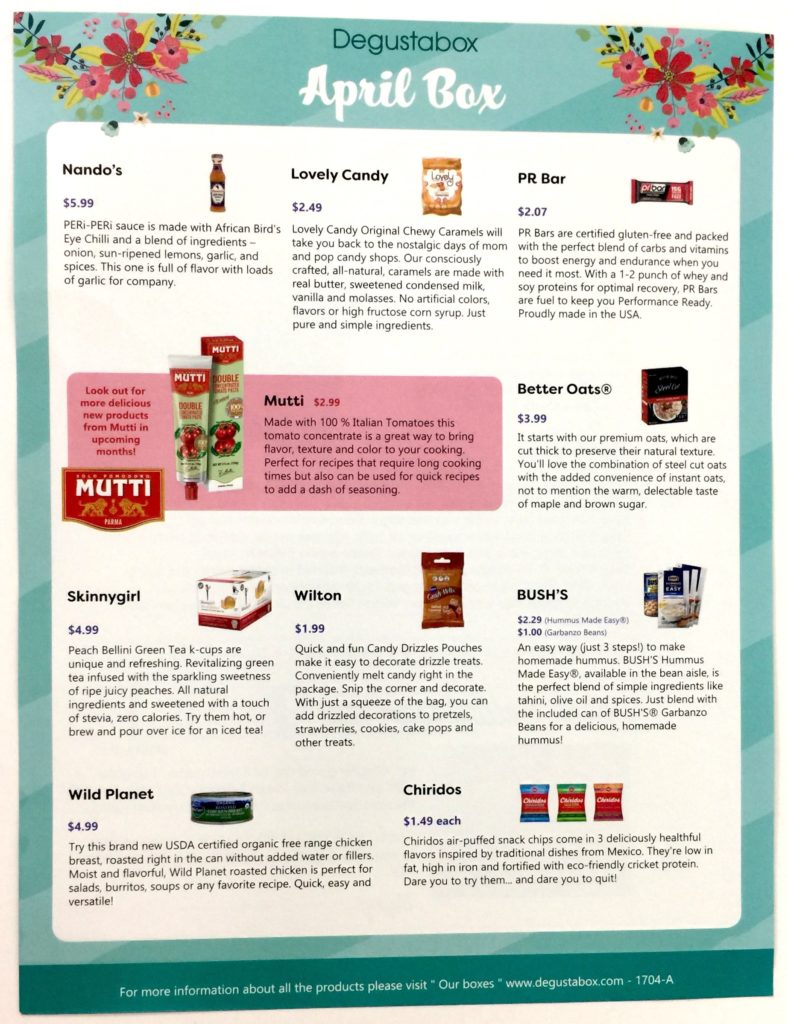 My April 2017 Degustabox includes a great full page glossy information sheet that gives you photos, accurate prices, and descriptions of each product curated for the box.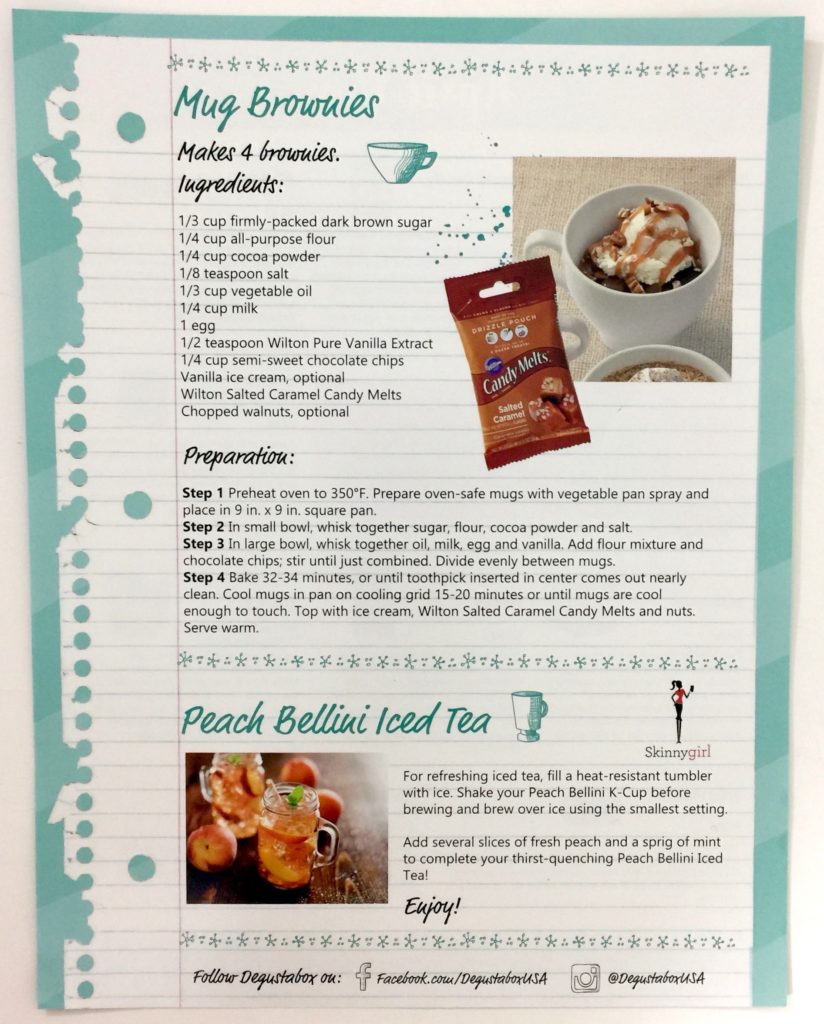 There is a yummy mug brownie recipe on the back of the information sheet, plus directions on how to make your Peach Bellini tea into delicious iced tea!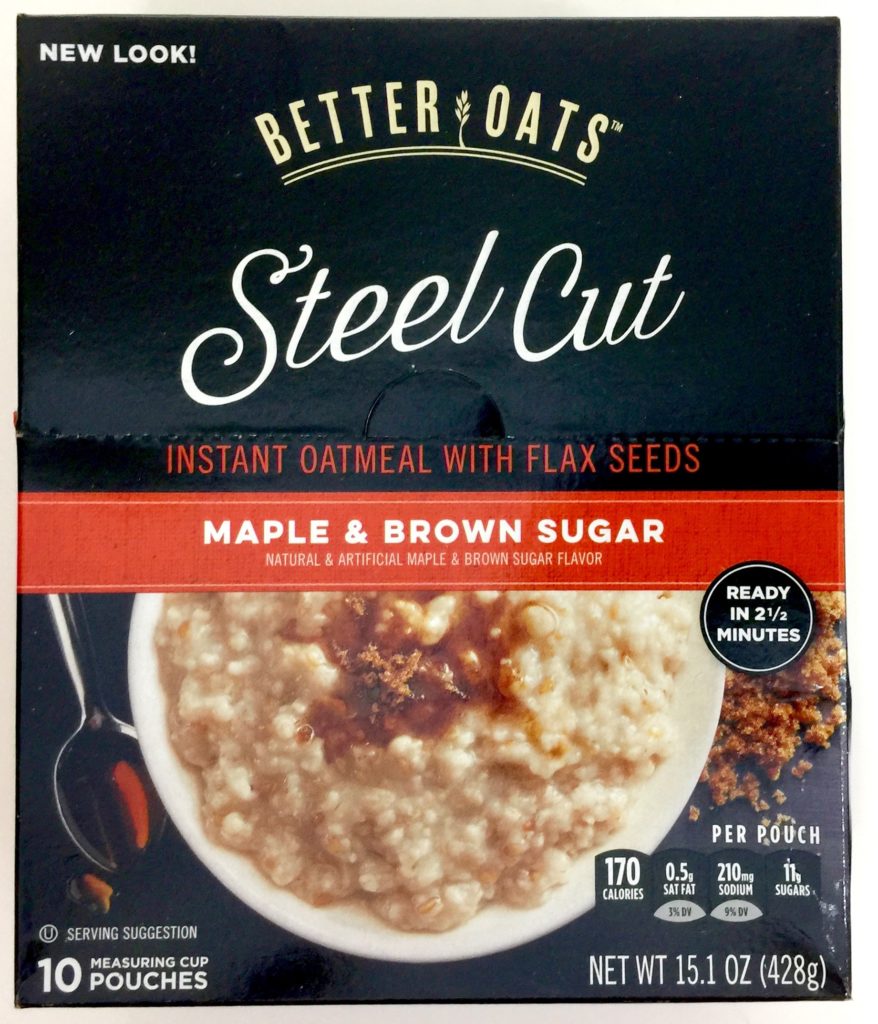 Better Oats – Steel Cut Instant Oatmeal with Flax Seeds 15.1 oz ($3.99)
These are healthier steel cut oats with the convenience of instant oats, flax seeds included, and a great source of Omega-3. Each box has 10 pouches and in 2 1/2 minutes your bowl of oatmeal is ready for you.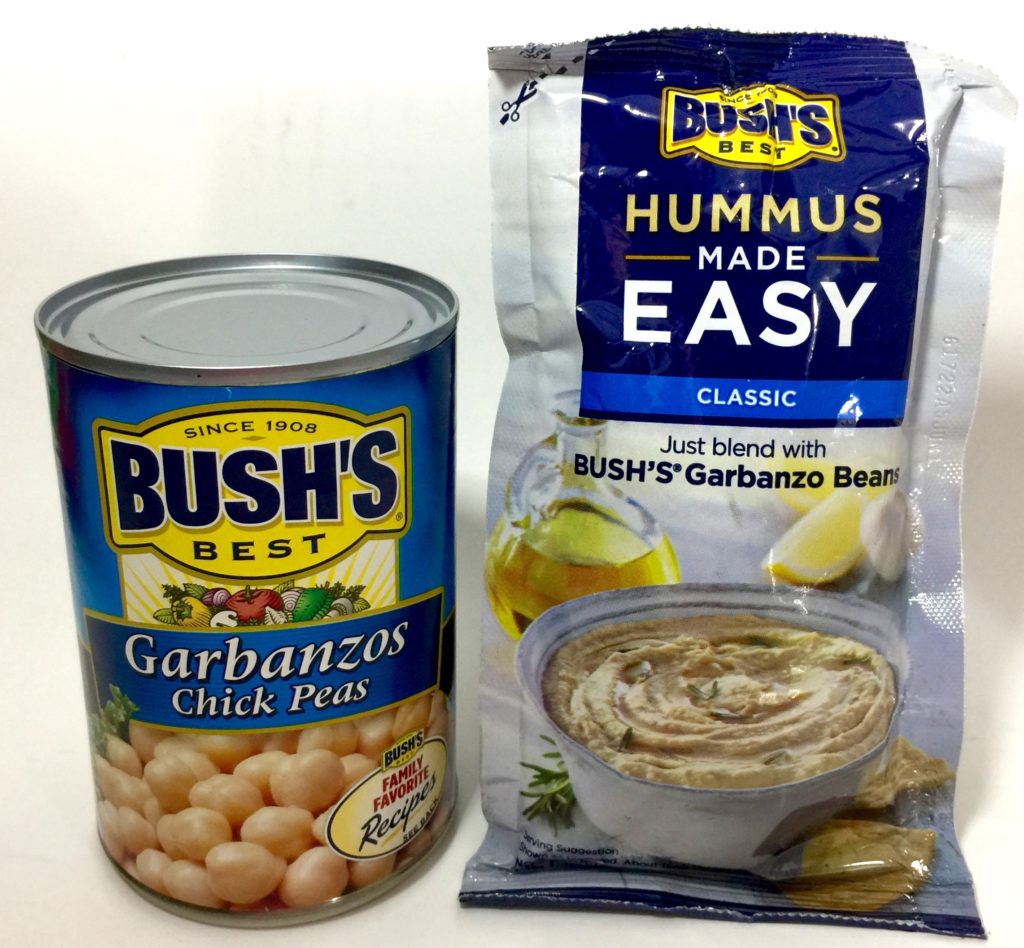 Bush's – Hummus Made Easy 6 oz ($2.29) & Garbanzo Beans 16 oz ($1)
Hummus when you want it! Easy to make – just put the drained garbanzo beans and the Hummus Made Easy in your food processor or blender and turn it on, mix until smooth. Bush's Hummus Made Easy is the perfect blend of simple ingredients like tahini, olive oil and spices.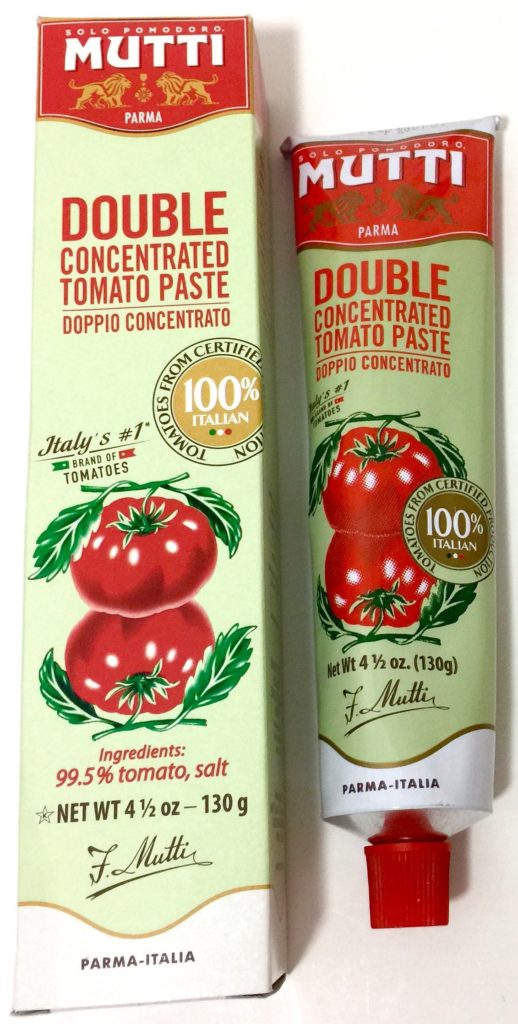 Mutti – Double Concentrated Tomato Paste 4.5 oz ($2.99)
This is a convenient tube of tomato paste made from 100% Italian tomatoes with a touch of salt. I always use tomato paste in a tube instead of in cans because when you just need a few tablespoons you don't end up with an open can sitting in the refrigerator. Plus it is double concentrated, so you use less. It is non-GMO, gluten-free, and vegan.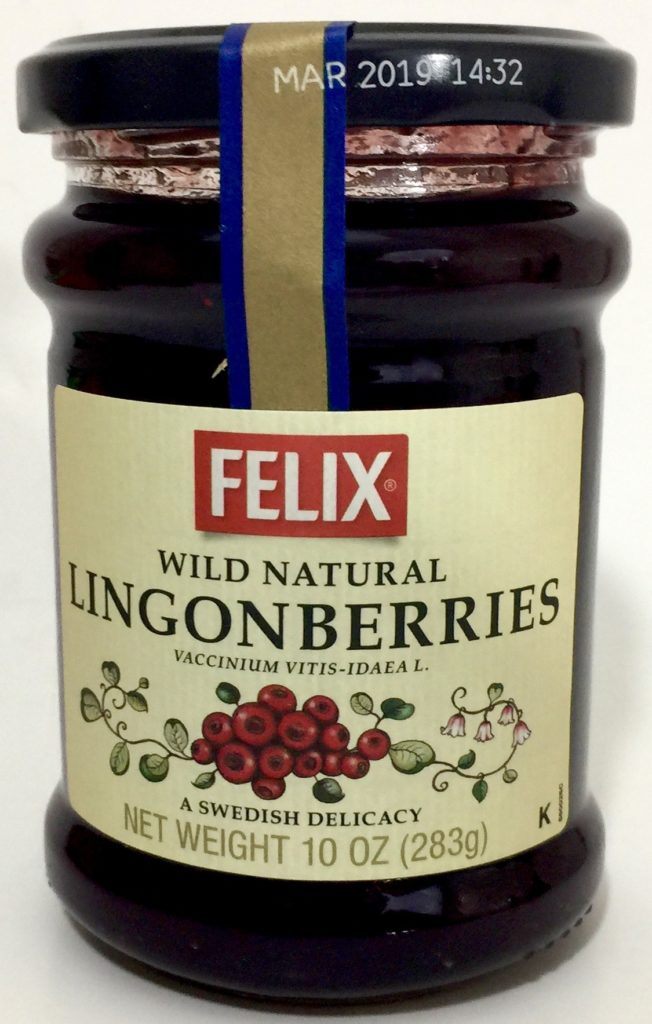 Felix – Wild Natural Lingonberries 10 oz ($4.36)
Not just for Ikea Swedish Meatballs, Lingonberries can be used to enhance your waffles, pancakes, or other desserts, stirred into yogurt, or served with meat or poultry. These are picked fresh from Swedish forests and sweetened with sugar, not high fructose corn syrup.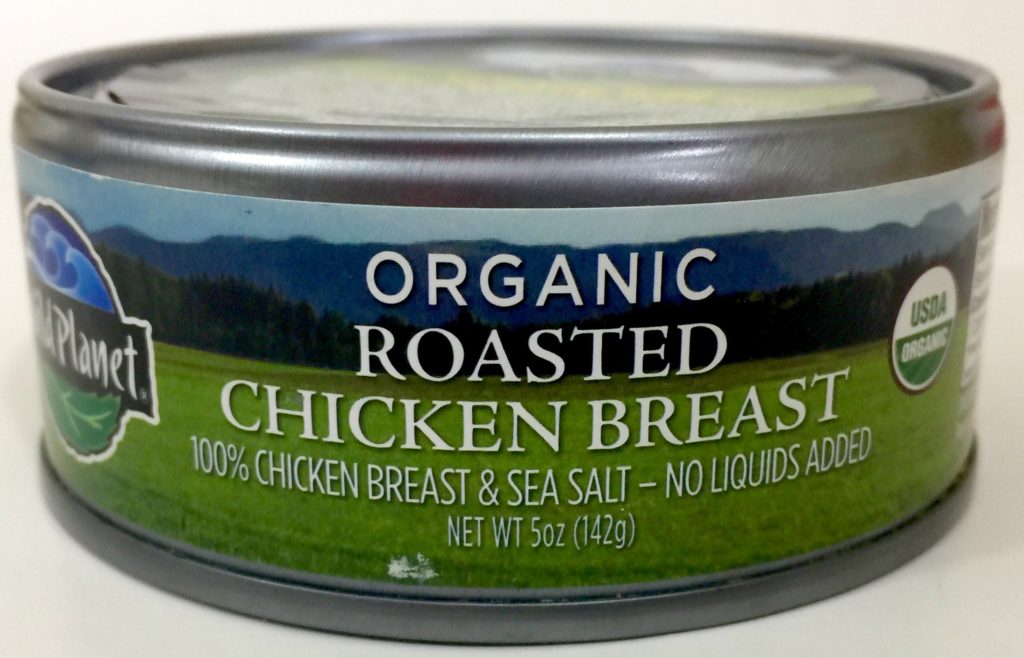 Wild Planet – Organic Roasted Chicken Breast 5 oz ($4.99)
This is a can of UDSA certified organic roasted skinless, boneless free range chicken breast meat with sea salt and no added liquids. "This premium chicken is raised on a non-GMO organic diet including corn grown on land that is free of chemical fertilizers, herbicides and pesticides."

Nando's PERi-PERi Sauce 4.7 oz ($5.99)
This is a garlic flavored medium-strength hot sauce from South Africa, made with mainly African Bird's Eye chilis and Serrano chilis, as well as sun-ripened lemons, onions, garlic and other spices. The company makes this sauce in milder – or even hotter! – blends, so you can find your sweet spot to enjoy it on your foods.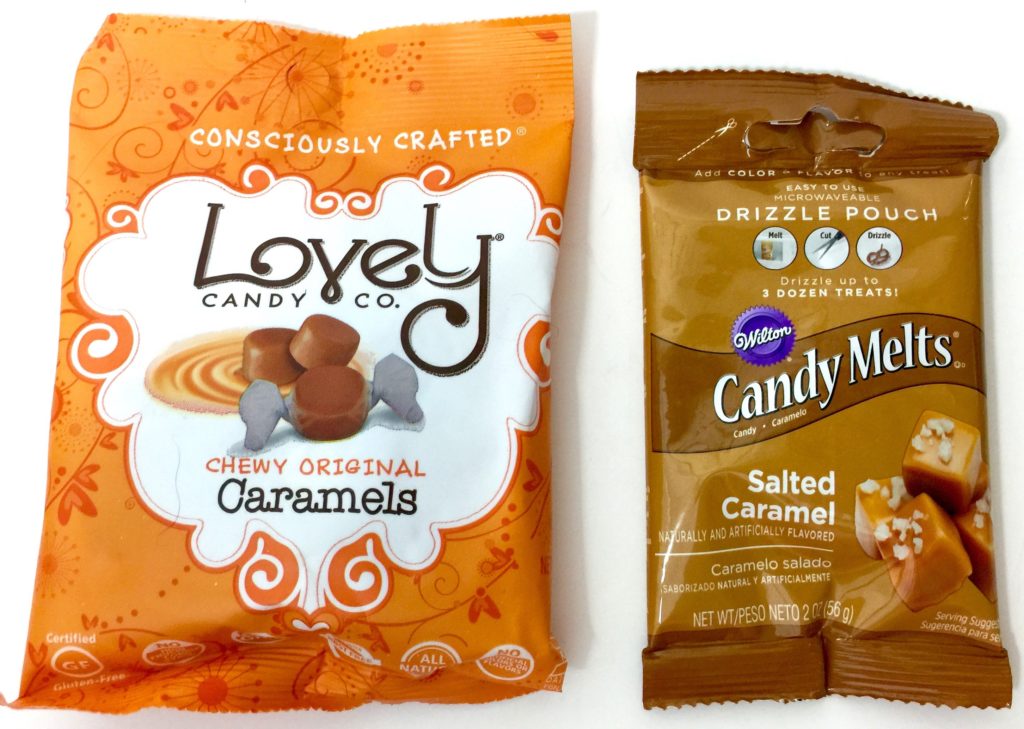 Lovely Candy Co. – Original Chewy Caramels ($2.49)
These are "Consciously Crafted"all natural, gluten and gmo-free. No high fructose corn syrup here – the main ingredients are brown rice syrup and sweetened condensed whole milk. Just like old-fashioned candy in Grandma's favorite candy shoppe!
Wilton – Salted Caramel Candy Melts 2 oz ($1.99)
This is a Candy Drizzle Pouch that is so easy to use! You can heat the candy right in the package, snip off the corner and decorate up to 3 dozen treats. And Wilton makes the Candy Drizzle Pouches in lots of other flavors, too.

PR Bars – Yogurt Berry Bar 1.76 oz ($2.07)
The name stands for "Personal Record" nutrition bar and the company has been "Fueling Athletes since 1992."  This gluten free bar is packed with 15 gms of protein and has only 200 calories, great for pre or post workout or just for a quick snack. Yogurt Berry flavor combines strawberry on the inside with a white creamy yogurt on the outside.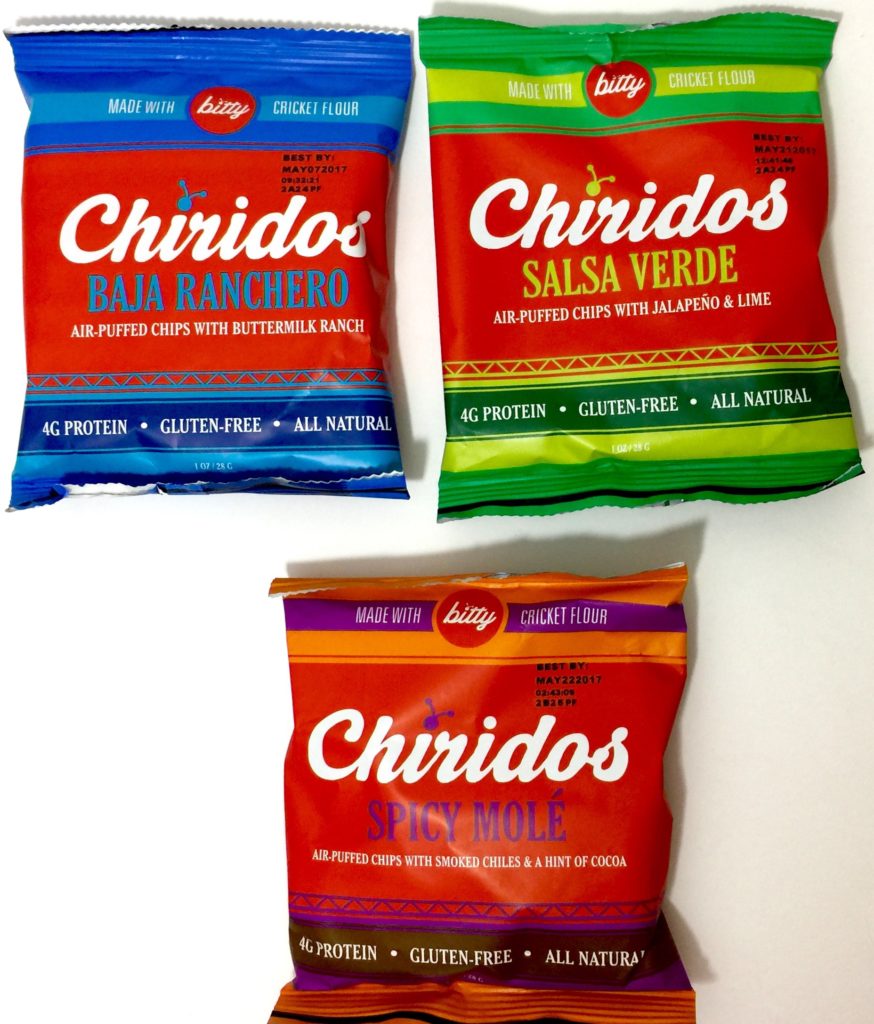 Chiridos – Air Puffed Chips 1 oz each ($1.49 each)
We received 3 different flavors of these snack chips, each flavor inspired by traditional Mexican dishes. They are made from cricket flour, an eco-friendly alternative that is rich in protein.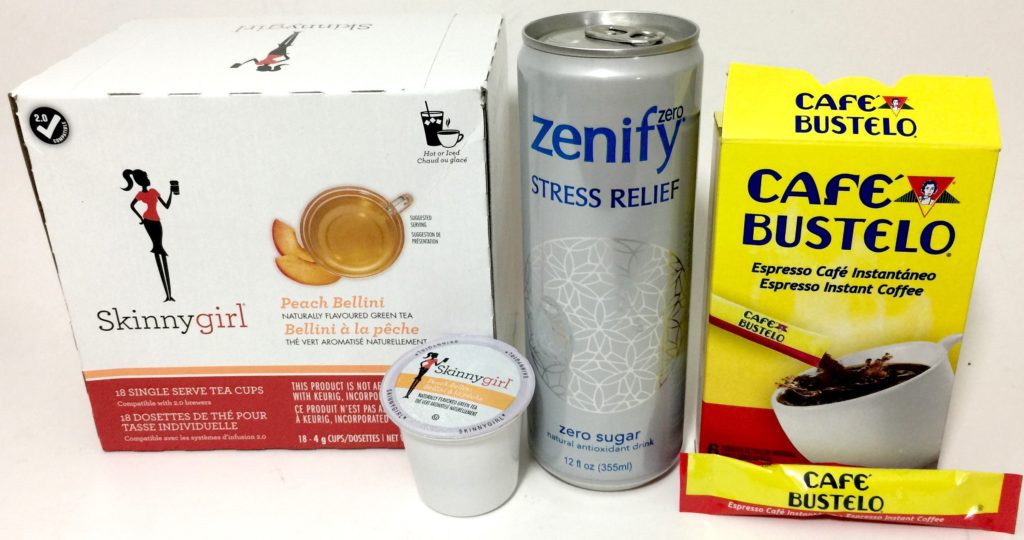 Each subscriber will receive only one kind of drink, not all three varieties. 
Skinnygirl – Peach Bellini Single Serve Tea 18 cups ($4.99)
This is a peach flavored green tea for your Keurig original or Keurig 2.0 brewer. It has 0 calories and is subtly sweetened with Stevia. Great either hot or cold!
Cafe Bustelo – Espresso Instant Coffee .55 oz ($.99)
This is a box with 6 single serving Instant Sticks of espresso. Add 6 oz of hot water or milk, stir, and you have rich, full bodied flavor on-the-go!
Zenify – Stress Relief Natural Antioxidant Drink 12 oz ($2.83)
"The live stress free beverage." This carbonated drink is sweetened with Stevia and contains only 50 calories. The calming agent is L-theanine, the same active ingredient and amount found in 15 cups of green tea. The can says Zenify "Promotes serotonin and dopamine…Reduces stress without drowsiness."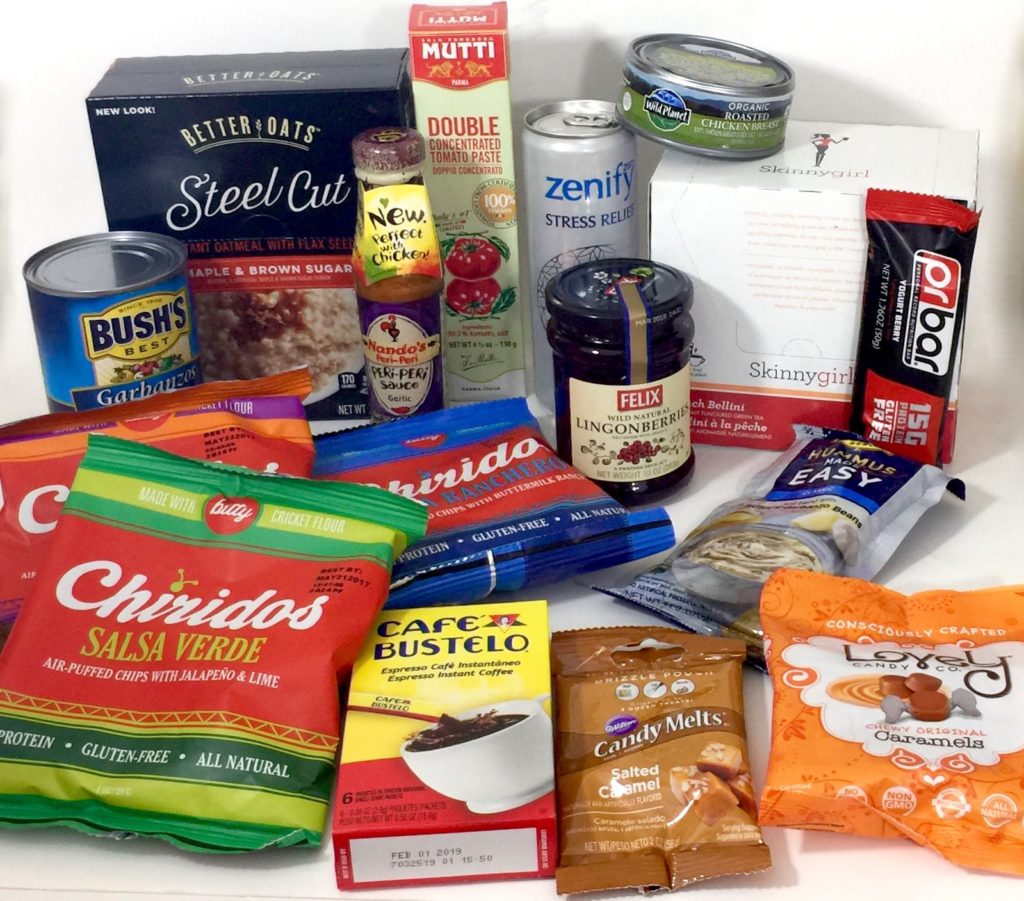 The retail value of the food items in the April 2017 Degustabox came to $30.59. I received a few extras in the blogger box but without them the value would remain well above the price paid. This was a really great box for us – I'm not too sure about the cricket flour chips but my hubby is fine with them so even that was a win!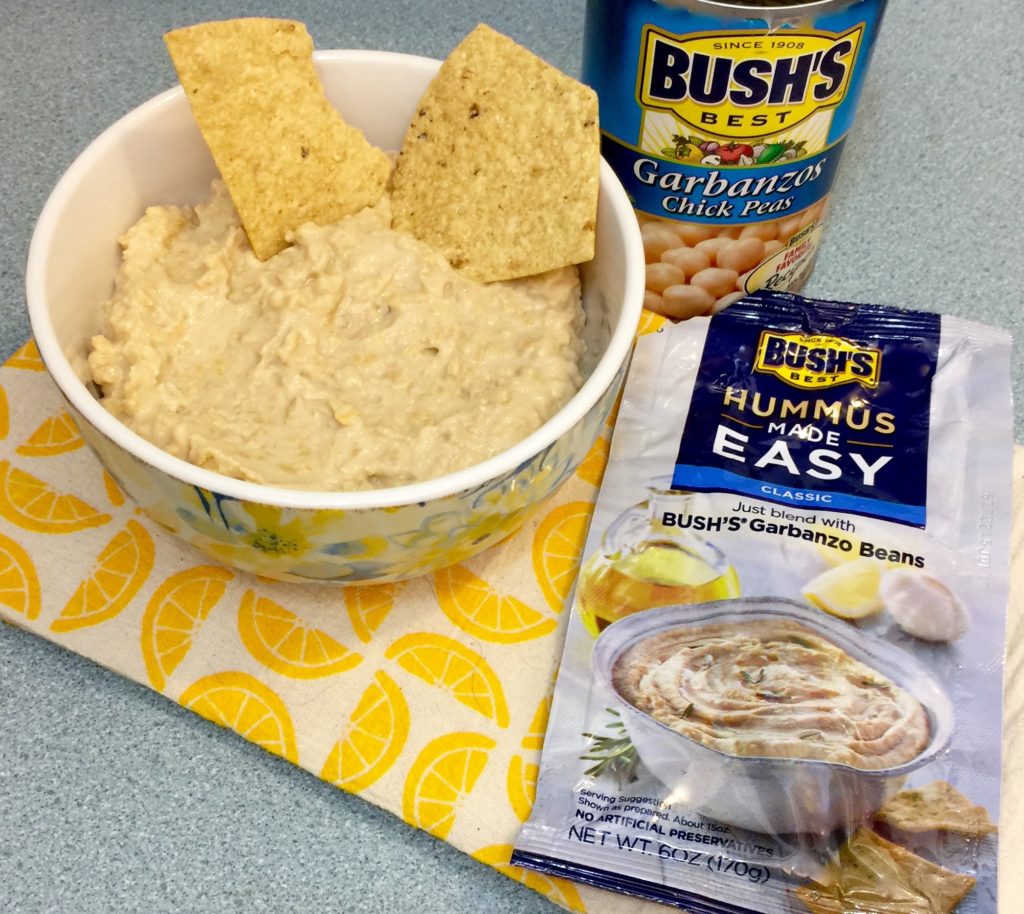 I just had to try the Hummus Made Easy! And it really was easy-peasy! Even though I don't have a food processor it was simple to mash the garbanzo beans with a fork and the rest just mixed in. Tastes great, too!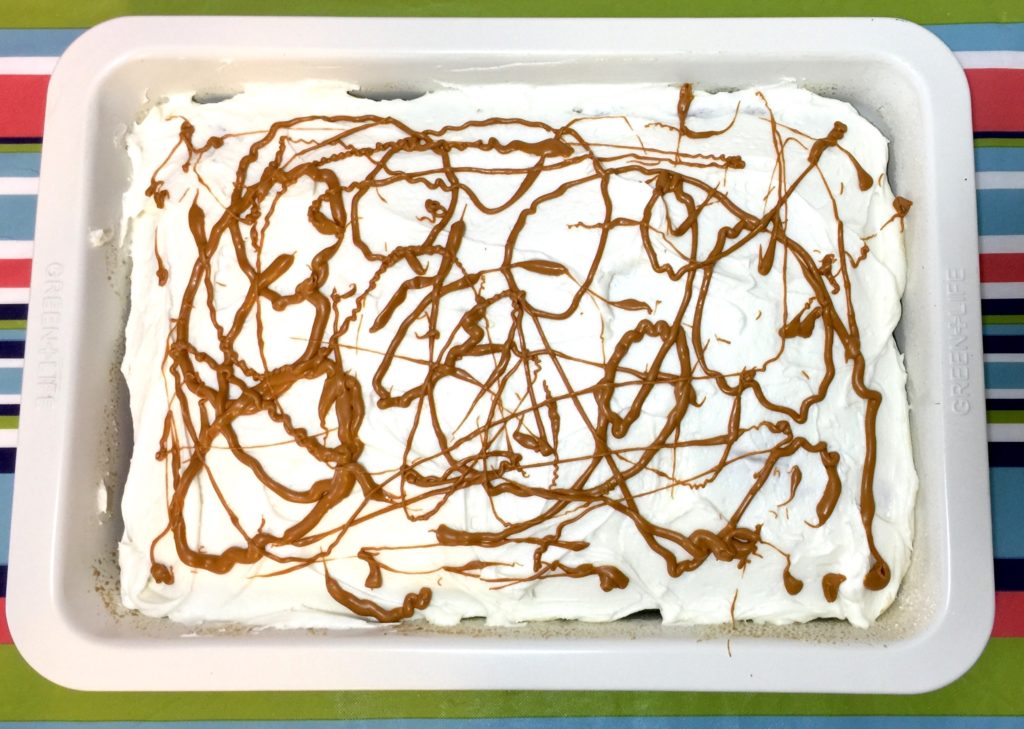 And look at this yummy cake with salted caramel drizzle! OMG – it was just as delicious as it looks and the Wilton Salted Caramel Candy Melts made just the perfect topping!
You can take a look at the Degustabox website to see past boxes if you want to get a feel for what you can expect. With no commitment and the value so much higher than the cost, Degustabox is really a sweet deal!