April 2017 CrazyCatLadyBox Review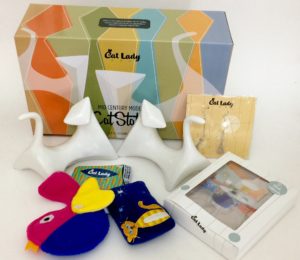 April 2017 CrazyCatLadyBox Review
CatLadyBox is the first-ever monthly subscription box "purrfectly curated just for cat ladies"! Each box contains 2-3 unique cat-themed items for the modern day cat lady (jewelry, clothing, tchotchkes, art, home décor, and more) and if you upgrade to the CRAZY CatLadyBox, your felines will also receive 2 or more delightful gifts to tickle their whiskers. 
CatLadyBox donates 5% of all profits to a different cat rescue organization each month plus supports independent artists and small businesses with their box contents.
The cost of the subscriptions: (the value will always be much more than what you paid)
The regular CatLadyBox – $34.99/month
The CRAZY CatLadyBox – $39.99/month
With all of them, you can sign up month-to-month or with a 3-month or 6-month plan where you prepay for that many boxes at a time. "The more you pay for ahead of time, the cheaper per box! The regular CatLadyBox can go as low as $31.33/month and the CRAZY CatLadyBox can be as low as $36/month."
The Homespun Chics paid for this subscription box. This post may contain affiliate links.  All opinions are 100% our own.
---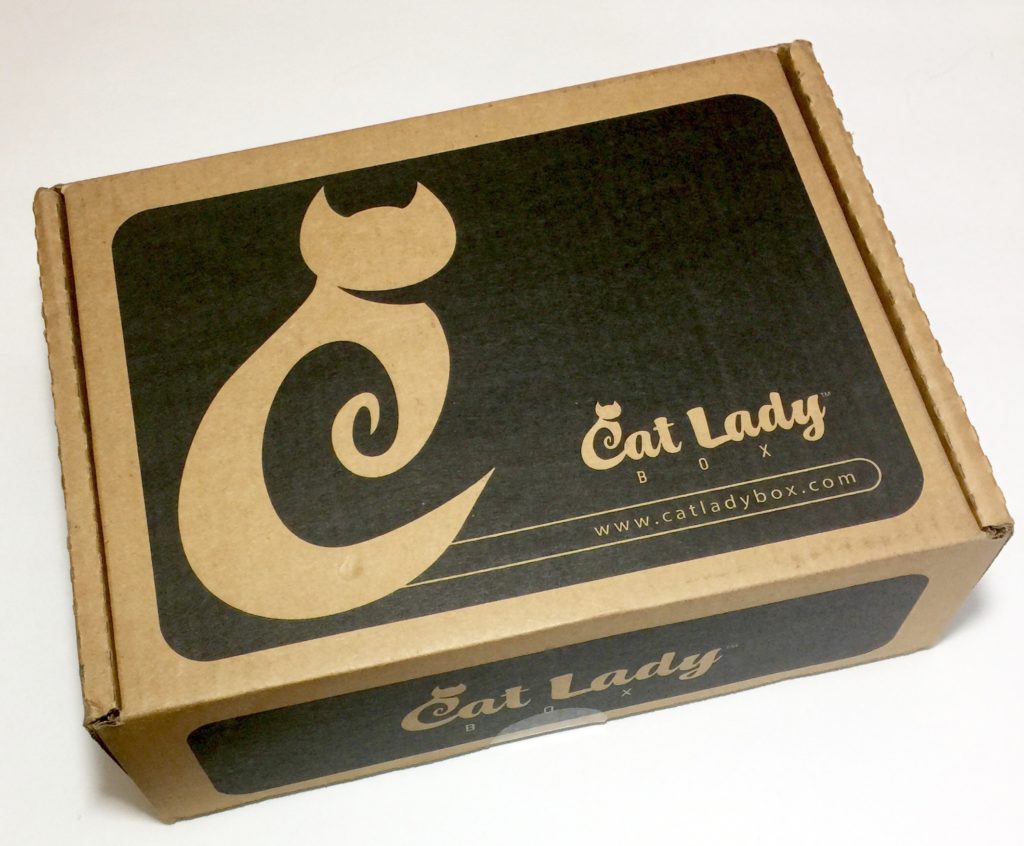 Theme: Midcentury Meowdern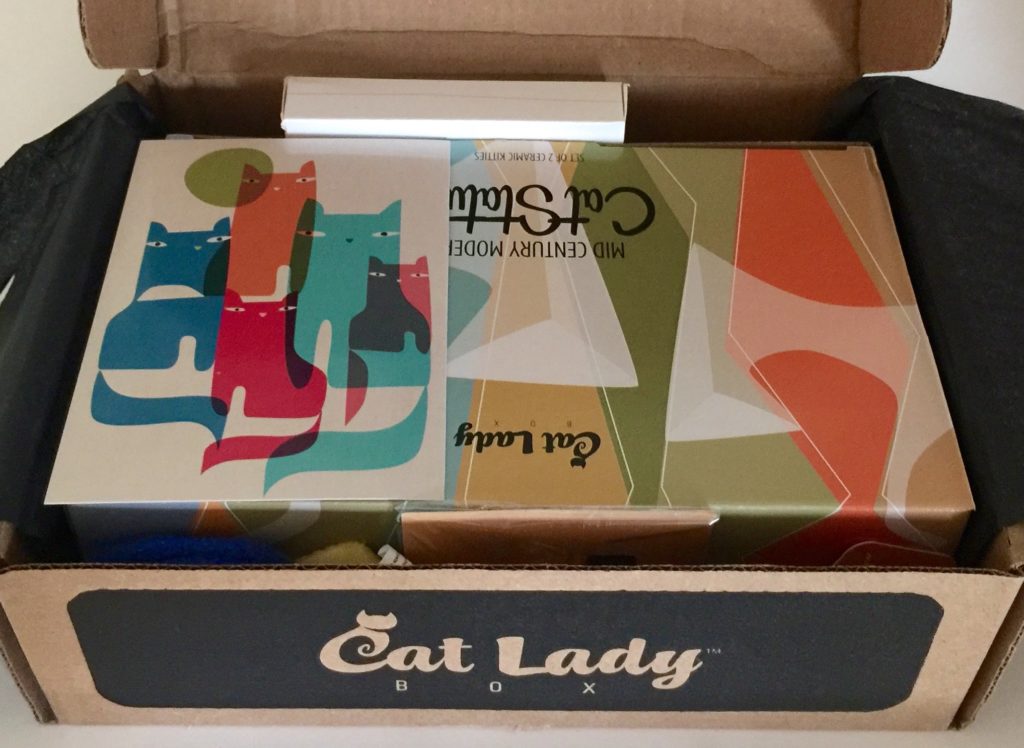 First Peek! Looks like we're celebrating Eames Era retro style this month!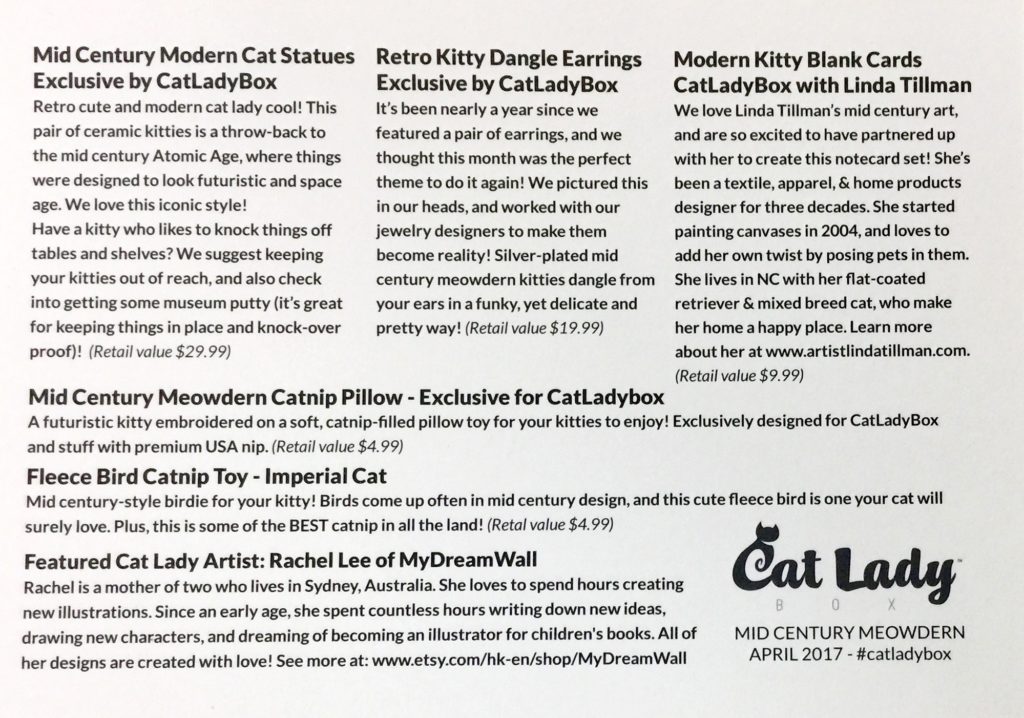 The product information card details everything in the box, including retail values.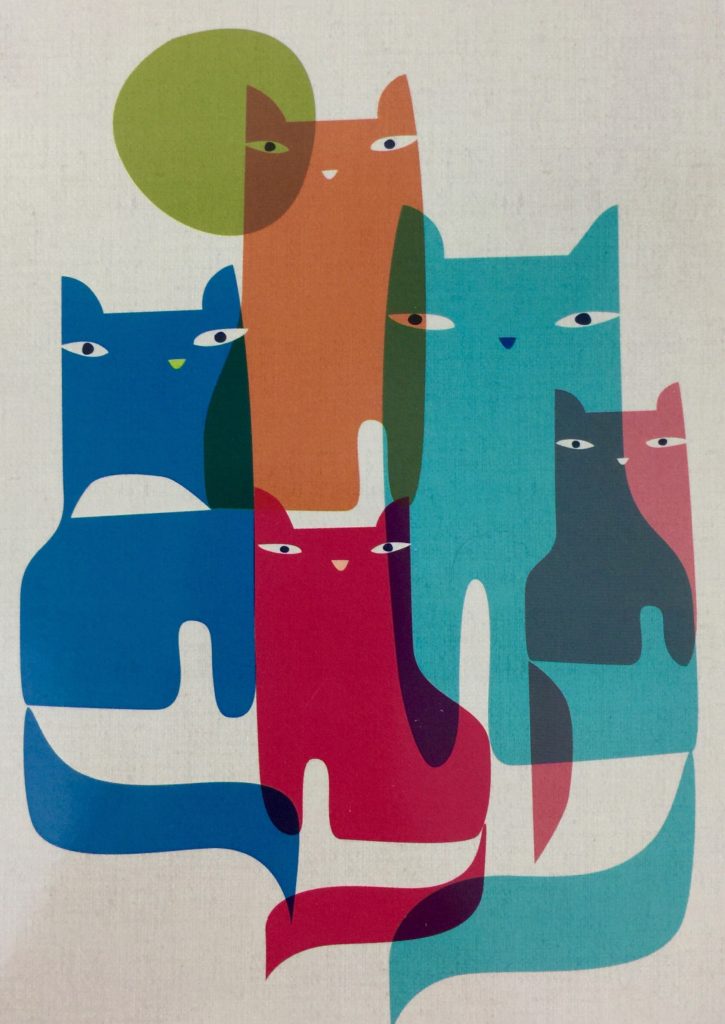 April's CatLady artist is Australia's Rachel Lee of MyDreamWall. You can find more of her work at www.etsy.com/hk-en/shop/MyDreamWall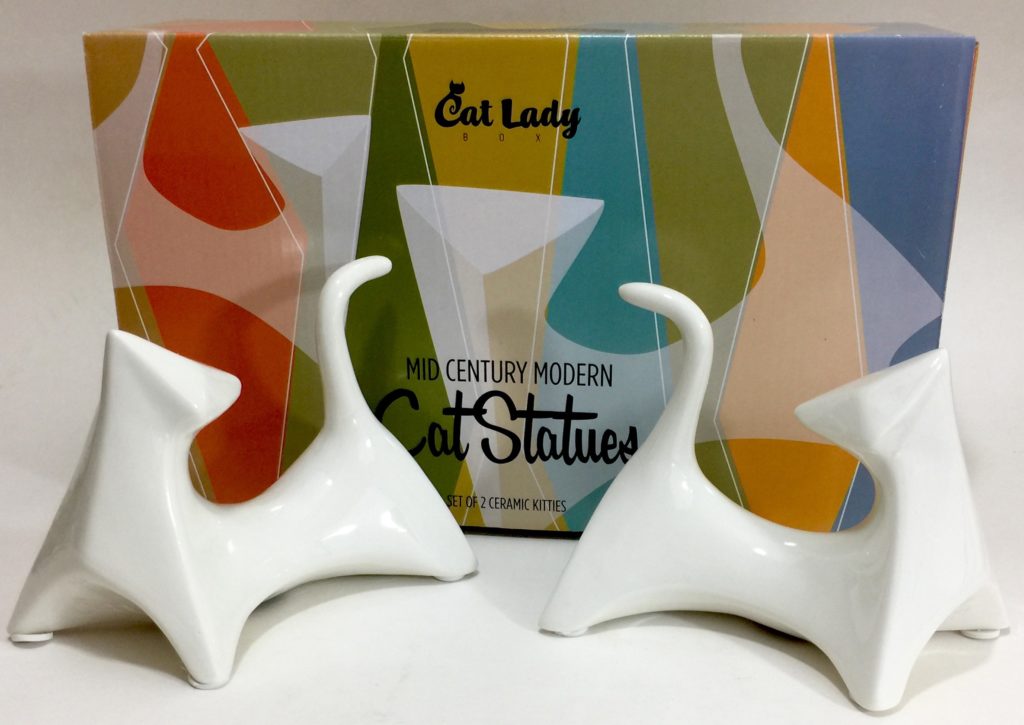 Midcentury Modern Cat Statues – Exclusive by CatLadyBox ($29.99)
I just love this pair of retro modern white ceramic kitties! With their Atomic Age style, they are perfect for my FL house! CatLadyBox suggests that you employ some museum putty to keep them in place if they are within reach of your kitties.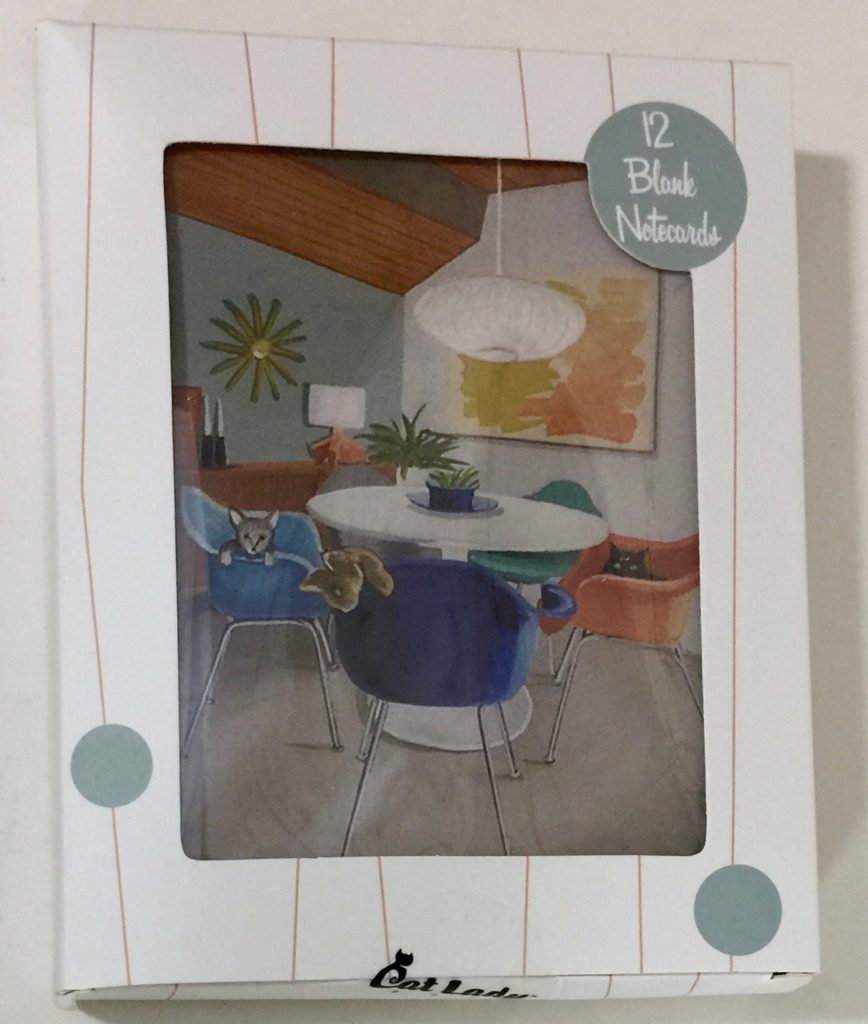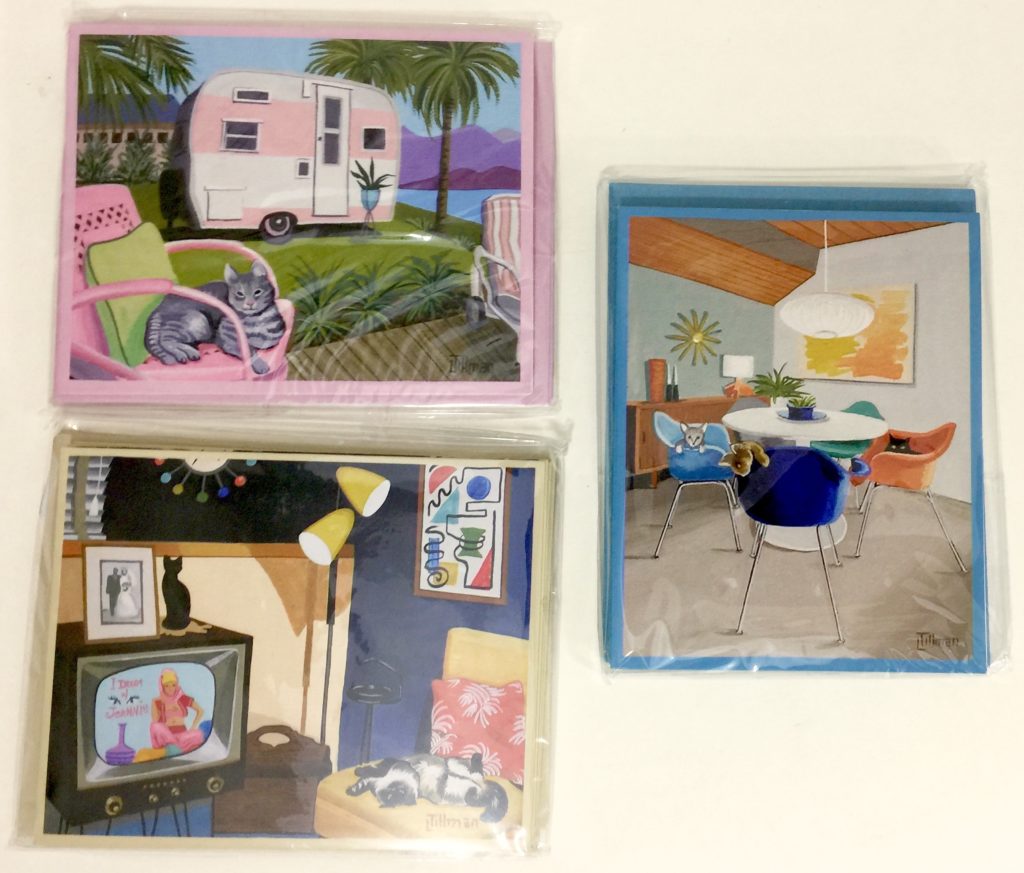 Modern Kitty Blank Cards – CatLadyBox with Linda Tillman ($9)
This is a very cool blank notecard set with 3 different mid-century designs. The images are wonderful and would be worthy of framing if you could purchase the prints! You can find the artist at www.artistlindatillman.com.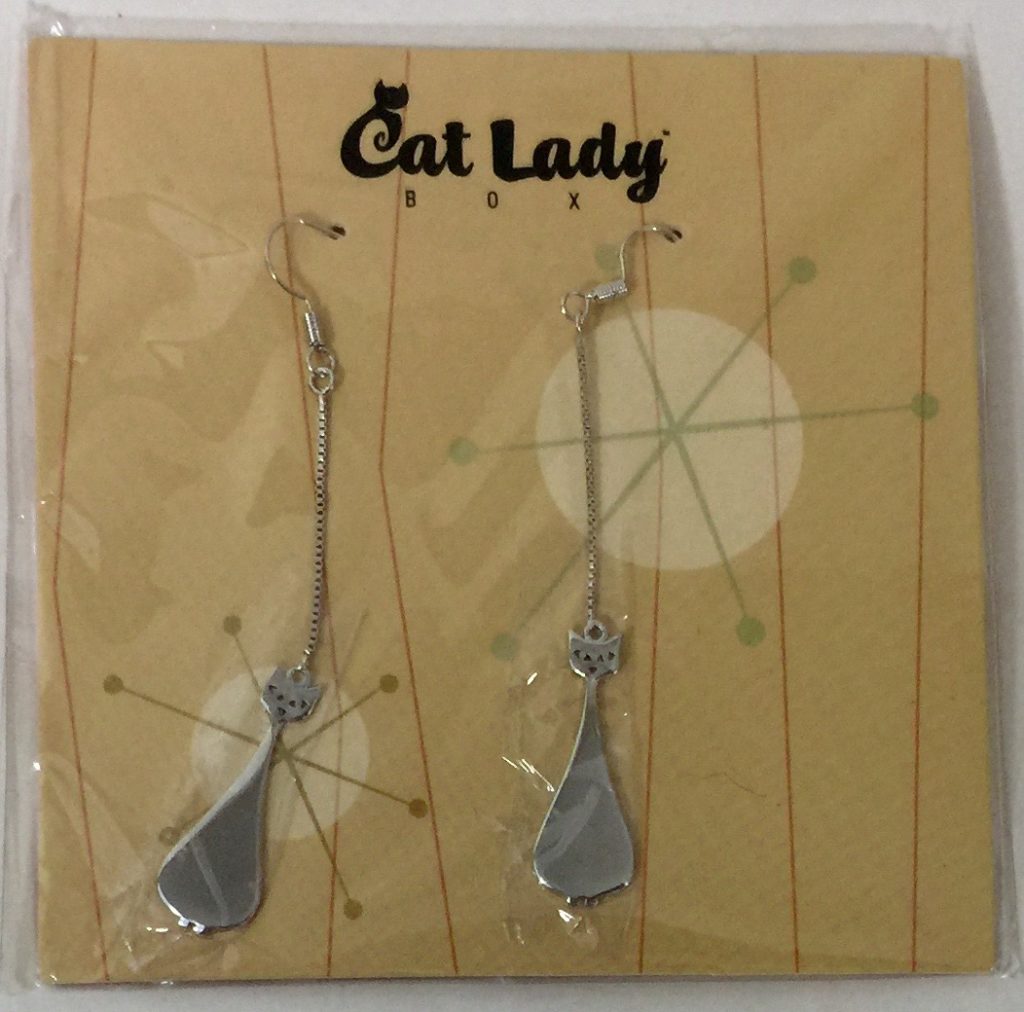 Retro Kitty Dangle Earrings – Exclusive by CatLadyBox ($19.99)
This is a pair of silver plated mid-century meowdern dangly earrings that would have been my favorite ones back in the 1960s, hippy that I was! And I would still wear them, but I think Sarah will get them first!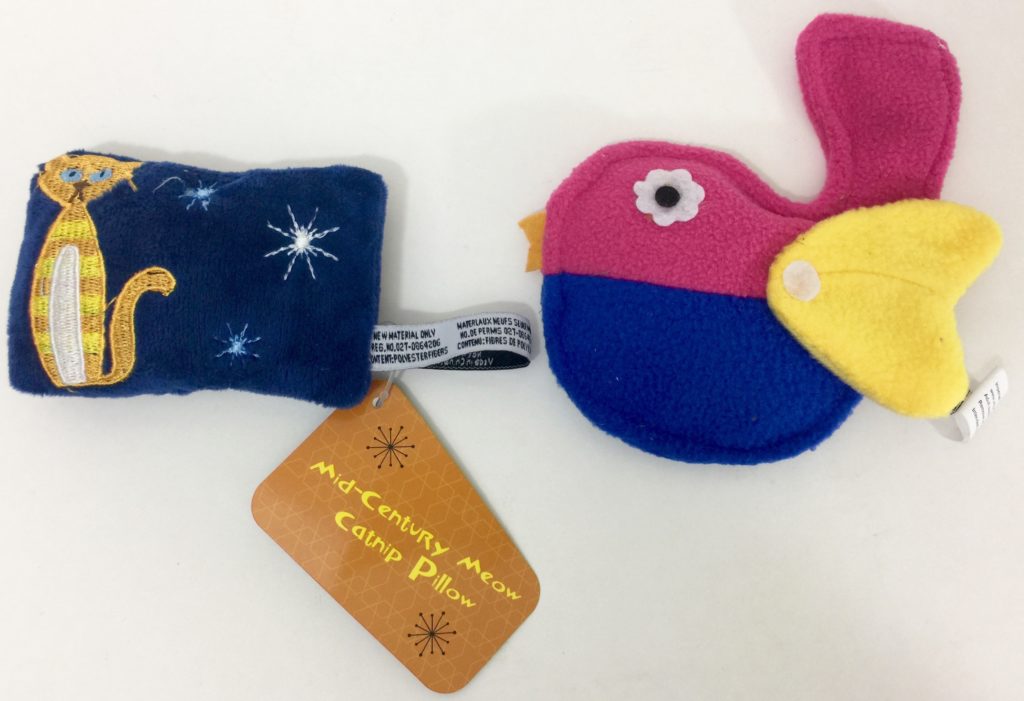 Mid Century Meowdern Catnip Pillow – Exclusive for CatLadyBox ($4.99)
Fleece Bird Catnip Toy – Imperial Cat ($4.99)
My kitties won't know that these cute toys are futuristic in design, only that they are full of dreamy, yummy catnip! Yeow!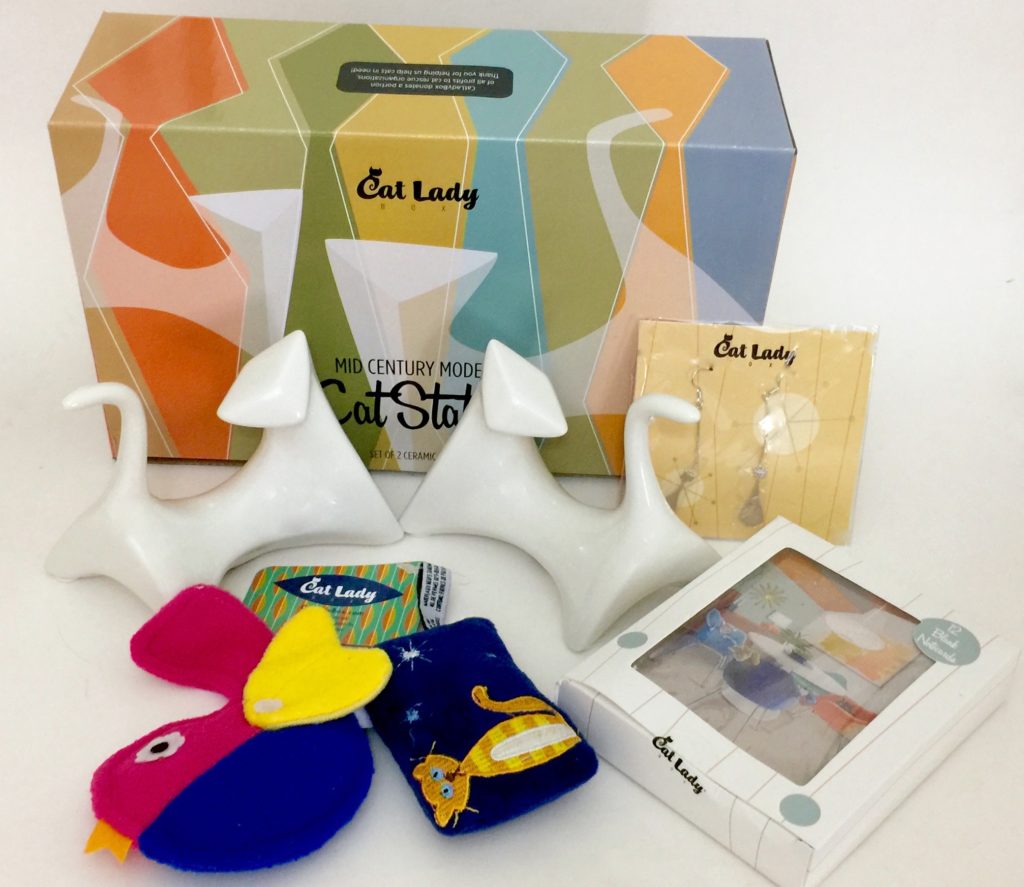 The retail value of the products in the April 2017 CrazyCatLadyBox came to $69.95. All but one cat toy was a CatLadyBox exclusive and I have to say I love her style! The value of the items in the CatLadyBox is always well above the subscription box cost and it is so much fun to see what new cat themed items show up every month!
Have you tried CatLadyBox?